Stocks poised for a weak open
Investors continue to take a critical look at corporate results. Jobless claims jump unexpectedly.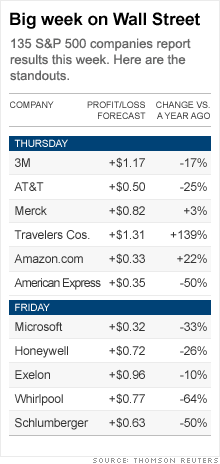 NEW YORK†(CNNMoney.com) -- U.S. stocks were set to open lower Thursday as investors continue to fret about the corporate results coming out for the third quarter and reacted to a worse-than-expected report about the job market.
The S&P 500, Nasdaq-100 and Dow Jones industrial average futures were narrowly mixed, losing some momentum after the jobless claims report.
Futures measure current index values against their perceived future performance and offer an indication of how markets may open when trading begins.
"I think it's positive, considering the way we closed yesterday," said Todd Leone, head trader at Cowen & Co., referring to the weakness in futures following Wednesday's stock losses. "They took the market down hard."
Having recently reached the hard-won goal of 10,000, Leone believes the Dow will probably "range around for a little while" without making dramatic moves, one way or another.
Wall Street fell from its one-year high Wednesday after a late-stage selloff in banking shares, inspired by influential banking analyst Richard Bove's downgrade of Wells Fargo. The Dow and S&P 500 both fell 0.9%, while the Nasdaq lost about 0.6%.
Earnings: Dow Chemical (DOW, Fortune 500) reported third-quarter earnings that beat expectations. Dow said that it earnings were 63 cents per share, or 24 cents excluding certain charges, with revenues of $12 billion. A consensus of analysts had expected revenue of $11.8 billion and earnings of 10 cents per share, according to Thomson Reuters consensus.
Travelers (TRV, Fortune 500), a New York-based insurer, reported earnings of $1.65 per diluted share, with net written premiums of $5.3 billion.
The company also raised its full-year guidance to a range of $5.30 to $5.50.
AT&T (ATT) reported a 1% dip in overall revenue, to $30.9 billion, which included a 10% gain in wireless service revenue, the biggest portion of sales. The company said earnings slipped nearly 2% to 54 cents per share. The stock edged up in pre-market trading.
Companies: Microsoft (MSFT, Fortune 500) launched Windows 7, which is expected to spur many PC users to change their operating system for the first time in about eight years.
Economy: The government reported that initial jobless claims jumped by 11,000 to 531,000 in the week ended Oct. 17. This was more than 515,000 claims forecast by Briefing.com consensus.
The government said the continuing claims fell by 98,000 to about 5.9 million.
A report on Leading Economic Indicators will be released at 10 a.m. ET. Also at that time, the housing price index from the U.S. Federal Housing Finance Agency will come out.
World markets: Stocks in Asia finished the session with losses, with Japan's Nikkei losing 0.6%. Major European indexes were in negative territory in midday trading.
Money and oil: The dollar rose against major international currencies, including the euro, the yen and the British pound. The price of oil dropped 49 cents to $80.88 a barrel.

Features

These Fortune 100 employers have at least 350 openings each. What are they looking for in a new hire? More

It would be the world's second-biggest economy. See how big companies' sales stack up against GDP over the past decade. More