Wall Street ready for early pop
Futures point to higher open, supported by better-than-expected results from Microsoft. Bernanke says "financial turmoil abating."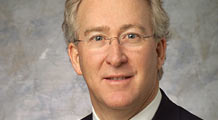 The government is slashing pay for top execs at firms bailed out by taxpayers, but plenty of people are still raking in the dough. Here are last year's top earners.
NEW YORK†(CNNMoney.com) -- U.S. stocks were poised for a positive open Friday, as investors reacted to better-than-expected results from Microsoft and upbeat comments about the economy from Fed chairman Ben Bernanke.
The S&P 500, Nasdaq-100 and Dow Jones industrial average futures were decidedly higher after being flat for much of the morning.
Futures measure current index values against their perceived future performance and offer an indication of how markets may open when trading begins.
Neil Adams, broker at MF Global in London, said futures were tracking positive momentum from Thursday's rally, as well as strength from European markets.
Wall Street rallied Thursday on earnings optimism after blue-chip firms including AT&T (T, Fortune 500) and 3M (MMM, Fortune 500) posted results that topped estimates.
"Company news has consistently outperformed market expectations, so that's what's driving markets at the moment," he said. "The earnings season has been pretty impressive lately."
Earnings: Microsoft (MSFT, Fortune 500) posted quarterly results Friday, with revenue of $12.9 billion and earnings of 40 cents per share. This beat analysts' expectations of $12.3 billion revenue and earnings of 32 cents per share, according to Thomson Reuters consensus.
Chief Financial Officer Chris Liddell attributed the earnings to "strong consumer demand for Windows" and "cost discipline."
The results came a day after the tech giant debuted its new Windows 7 operating system, which is widely expected to help lift PC sales over the next 18 months.
Aircraft manufacturer Honeywell (HON, Fortune 500) reported third-quarter sales of $7.7 billion, down from $9.3 billion in the year-ago quarter, with earnings of 80 cents per share, down from 97 cents a share in the year earlier quarter.
Whirlpool (WHR, Fortune 500), a manufacturer of refrigerators and other appliances, reported a 47% drop in third-quarter earnings to $1.15 per share, and net sales of $4.5 billion.
Late Thursday, Amazon (AMZN, Fortune 500) reported a 69% surge in third-quarter profit, helped by sales of the Kindle e-reader. Total revenue grew 28% to $5.45 billion.
Also on Thursday, the credit card company American Express (AXP, Fortune 500) reported that net income fell 21% in the third quarter to $640 million, or 53 cents per share, compared to the year-ago quarter.
Companies: Late Thursday, Dole Food Co. said it raised $446 million through an initial public offering, after being in business for more than 150 years as a private company. Dole priced its IPO at $12.50 per share, below its expected range of $13 to $15 per share. The company starts trading on the NYSE Friday under the ticker DOLE (DOLE).
Bernanke: Federal Reserve Chairman Ben Bernanke was speaking Friday morning at the Bank of Boston's economic conference. In his opening comments, Bernanke said he saw "the financial turmoil abating."
The Fed on Thursday proposed a broad overhaul of pay policies at 28 of the largest U.S. banks.
Economy: A report on existing home sales is due out at 10 a.m. ET. Sales are expected to have risen to a 5.35 million unit annual rate from a 5.10 million unit.
World markets: Stocks in Asia finished the session with gains. The Hang Seng in Hong Kong rallied 1.7%. Major indexes in Europe were all up about 1% in midday trading.
Money and oil: The dollar slipped against the euro but rose versus the yen and the pound. The price of oil was practically unchanged, increasing 17 cents to $81.36 per barrel.

Features

These Fortune 100 employers have at least 350 openings each. What are they looking for in a new hire? More

It would be the world's second-biggest economy. See how big companies' sales stack up against GDP over the past decade. More