Microsoft wows the Street
Stock soars 10% after the software giant's earnings and revenue beat analysts' forecast. Sales fell 14% to $12.9 billion, declining for the third quarter in a row.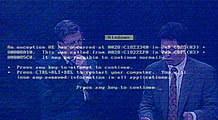 Microsoft Windows is by far the most widely used operating system in the world, but there were a few big bumps in the road on the way to global domination.
NEW YORK (CNNMoney.com) -- Microsoft Corp.'s stock soared early Friday after the software giant reported quarterly sales and profit that fell from year-ago results but easily beat Wall Street's forecasts.
Shares of Microsoft (MSFT, Fortune 500) rose more than 10% in early trading. It surged as high as $29.35 at the open, hitting its highest level, on an intraday basis, since June 13, 2008.
The Redmond, Wash.-based software giant said its first-quarter net income fell 18% to $3.6 billion, or 40 cents per share, for the period ended Sept. 30. Analysts polled by Thomson Reuters were expecting earnings of 32 cents per share.
Sales fell 14% to $12.9 billion, topping analysts' forecasts of $12.3 billion. It was the third consecutive quarter in which sales fell from year-ago levels. In April Microsoft reported that sales fell on a year-over-year basis for the first time in the company's 23-year history as a public company.
"We are very pleased with our performance this quarter and particularly by the strong consumer demand for Windows," said Microsoft Chief Financial Officer Chris Liddell in a statement. "We also maintained our cost discipline, which allowed us to drive strong earnings performance despite continued tough overall economic conditions."
Some analysts said cost-cutting contributed to better-than-expected results, but it's too soon to declare Microsoft's recent struggles over.
"Microsoft did a little deck cleaning before the start of its fiscal year," said Carl Howe, analyst at Yankee group. "They may have beat expectations, but if I looked at this just to analyze the income statement, Microsoft still had a tough quarter."
Windows 7 expected to be a hit. The earnings announcement topped off a high-profile week for Microsoft, in which it unveiled its new operating system, Windows 7.
Microsoft has been hurt in recent quarters by slumping demand for PCs. But many signs point to a rebound in computer sales, including this week's Windows 7 launch. Though analysts don't expect the new operating system to boost PC sales significantly in 2009, a pickup in sales is anticipated for 2010.
Microsoft said PC sales were better than expected in the last quarter, as sales ticked up by between 0% and 2%. The company said businesses will slowly start to buy new computers starting next year and into 2011.
Sales of Windows fell 38.8% in the quarter and profits from the operating system division were sliced in half. That was mostly due to a deferral of $1.5 billion in revenue from Vista sales to provide customers with upgrade coupons for Windows 7.
The company said Windows sales set an all-time record in September -- an encouraging sign for the company and for the success of Windows 7. Microsoft said it will realize $1.7 billion of Windows 7 revenue in the current quarter -- $1.5 billion from last quarter and $200 million from the previous quarter.
"What they really did was ensure that in this [current] quarter, that division will have very nice looking results, since they are pulling in deferred results from last quarter," said Howe. "So the [current] quarter may look much better as a result."
Cost-cutting drives profits higher: Other divisions posted healthy profit increases, largely as a result of cost-cutting.
In January, Microsoft announced its first mass layoffs in its 34-year history in an effort to bolster its bottom line. The company slashed 5,000 positions, a move that is expected to be completed by mid-2010.
The company's headcount was down 4% in the quarter from a year ago -- the largest yearly staffing decline in the company's history.
Revenue from its entertainment and devices division, which includes the Xbox 360 and the new Zune HD, was unchanged from last year, but profit nearly doubled. The company's server unit also had flat revenue, but profits rose 23%.
The company still failed to turn a profit in its online services business though. That division, which includes MSN, lost $480 million in the quarter. Sales in the division were down 6% from the same quarter a year earlier. The company said search advertising revenue continued to decline, but the industry is showing signs of stabilization.
Microsoft unveiled Bing, its new search engine, in June and agreed to an advertising revenue-sharing partnership with Yahoo (YHOO, Fortune 500) that will begin in 2010. Bing's launch has been considered a success so far, but the company still trails industry leader Google (GOOG, Fortune 500) in the online advertising market.

Features

These Fortune 100 employers have at least 350 openings each. What are they looking for in a new hire? More

It would be the world's second-biggest economy. See how big companies' sales stack up against GDP over the past decade. More