Consumers: Current economy at 26-year low
Conference Board's reading of consumer confidence falls in October, surprising economists.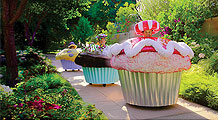 Each year, Neiman Marcus unveils a handful of over-the-top fantasy holiday gifts. Take a quick spin through the luxury retailer's 2009 Christmas Book and you just might forget about scaling back this year.
NEW YORK (CNNMoney.com) -- A key measure of consumer confidence continued to slip in October, with consumers' gauge of the current economic situation falling to a 26-year low, a research group said Tuesday.
The Conference Board, the New York-based research group said its Consumer Confidence Index fell to 47.7 in October from an upwardly revised 53.4 in September.
Economists were expecting the index to increase to 53.5, according to a Briefing.com consensus survey. The figure, which is based on a survey of 5,000 U.S. households, is closely watched because consumer spending makes up two-thirds of the nation's economic activity.
The index component that evaluates consumers' judgment of the present situation dipped to 20.7 in October, the lowest since the 17.5 measured in February 1983. It stood at 23 in September.
"Consumers' assessment of the present-day conditions has grown less favorable, with labor market conditions playing a major role in this grimmer assessment," said Lynn Franco, director of the Conference Board Consumer Research Center.
Employers continued to cut jobs from their payrolls in September, as the unemployment rate rose to 9.8% and hit another 26-year high in September, according to a report from the Labor Department earlier this month.
The percentage of those claiming that jobs are currently hard to get reached new high of 49.6%, while the number of consumers claiming that jobs are "plentiful" hit a new low at 3.4%.
"It is surprising how uniformly weak this report was," said Mark Vitner, an economist at Wells Fargo. "The expectations had gotten ahead of themselves. Everyone thought that economy would follow the rebound in the stock market. But now that the rebound has leveled off, folks doubt whether conditions will get better."
Recovery isn't near for consumers. The expectation index, which measures consumers' outlook over the next few months, declined to 65.7 from 73.7 last month. Similarly, the percentage of those expecting the job market to improve edged lower to 16.3% from 18%.
The number of consumers expecting their incomes to increase also fell to 10.3% from 11.2%, suggesting that shoppers will likely limit their holiday spending, said Franco. The average amount consumers spend on holiday-related shopping will drop by $22.27 to $682.74, said the National Retail Federation in a report last week.
The outlook for business conditions also grew more pessimistic in October, with the percentage of consumers expecting conditions to worsen climbing to 18.3% from 14.6%.
The overall index remains at historically low levels. A reading above 90 indicates the economy is solid, and 100 or above signals strong growth.
Vitner expects the main index to hover around 50 for the next several months.
"We need to see a real improvement in employment conditions. Layoffs need to stop rising and hiring needs to pick up," he said. "The soonest that we think that consumers' confidence will see a sustained rise would be late spring of next year."
Economists predict GDP, the broadest measure of economic activity, rose at an annual rate of 3.2% in the third quarter of this year after a 0.7% drop in the second quarter. The government will release its advance third-quarter GDP report Thursday.

Features

These Fortune 100 employers have at least 350 openings each. What are they looking for in a new hire? More

It would be the world's second-biggest economy. See how big companies' sales stack up against GDP over the past decade. More