Exxon Mobil earnings plunge 68%
The energy giant says lower commodity prices weighed on sales and profits during the third quarter.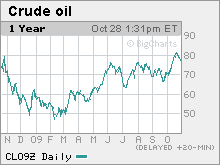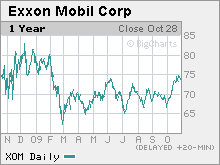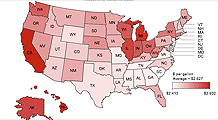 Prices at the pump can vary widely among states due to a number of factors.
More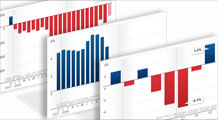 The economy has grown for five straight quarters, but there are signs that the recovery is still fragile.
NEW YORK (CNNMoney.com) -- Exxon Mobil reported a 68% decline in third-quarter earnings Thursday as oil and natural gas prices tumbled from last year's highs.
The world's largest publicly traded oil company said it earned $4.73 billion in the second quarter, down 68% from $14.83 billion a year earlier. On a per-share basis, Exxon said it earned 98 cents, down from $2.85 in the third quarter of 2008.
The results were below forecasts. Analysts surveyed by Thomson Reuters were expecting earnings of $1.03 per share.
Profits fell across all of Exxon's business units. But the larger-than-expected third-quarter decline was driven by weakness in the company's refining business, according to Oppenheimer analyst Fadel Gheit.
"The earnings miss was largely due to weaker-than-expected downstream earnings, including a loss in the U.S., as well as higher operating costs," Gheit wrote in a research report.
Exxon and other companies that convert crude oil into refined products such as gasoline and diesel have been squeezed as demand for fuels remains weak and oil prices have trended higher.
"We are in a very challenging environment in the refining business," David Rosenthal, Exxon's vice president of investor relations, said in a conference call with analysts. "The severity and depth of the downturn this year is very dramatic."
Exxon suffered a $203 million loss in its U.S. refining business, while profits from overseas refining operations fell 74% to $528 million in the quarter.
Earnings from Exxon's exploration and production unit were down 62% in the United States to $709 million and fell 63% overseas to $3.3 billion.
Despite ongoing weakness in fuel demand, Exxon said production rose 3% in the quarter.
Last year, Exxon reported the largest annual profit in U.S. history, making $45.22 billion on the back of record oil prices. But the company's earnings have declined along with oil prices as the global economy contracted.
Oil prices averaged around $68 a barrel in the third quarter, compared with an average price of $118 a barrel in the same period during 2008.
While prices remain below last year's highs, oil has rebounded 67% so far this year as economic conditions have improved, encouraging investors to jump back into the market.
"Oil prices have actually been pretty resilient," said Jason Gammel, an analyst who covers Exxon at Macquarie Research Equities. "Demand hasn't resurfaced yet, but the market is building in an expectation of economic recovery next year."
Exxon (XOM, Fortune 500) said revenue plunged to $82.26 billion in the quarter from $137.74 billion a year earlier. Analysts had forecast sales of $85.16 billion.
Capital and exploration spending fell 5% in the quarter to $6.5 billion.
The company said it invested $19 billion through the first three quarters of the year to develop new energy supplies.
"Despite ongoing global economic weakness and reduced demand for products, we continued our robust investment program and delivered strong results," Exxon chairman Rex Tillerson said in a statement.
Shares of the Irving, Texas-based company were down 1.1% to $72.76 at midday.
Do you have a job because of the $787 billion stimulus package? We want to hear from people whose jobs have been created or saved by the American Recovery and Reinvestment Act. Please e-mail your stories to CNNMoney.com and you could be part of an upcoming article. For the CNNMoney.com Comment Policy, click here.

Features

These Fortune 100 employers have at least 350 openings each. What are they looking for in a new hire? More

It would be the world's second-biggest economy. See how big companies' sales stack up against GDP over the past decade. More