Are 'too big to fail' powers just too big?
As lawmakers reshape financial rules to stop firms from getting too big to fail, one thing is clear: The White House gets more power. That scares some people.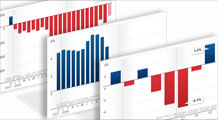 The economy has grown for five straight quarters, but there are signs that the recovery is still fragile.
WASHINGTON (CNNMoney.com) -- As Congress starts debating how to deal with financial firms deemed "too big too fail," some lawmakers and advocates are worried about giving the executive branch expansive new powers over the financial sector.
"Mr. Secretary, I'm not a man that fears this administration or you," Rep. Paul Kanjorksi, D-Pa., told Treasury Secretary Tim Geithner this week. "But I do fear the accumulation of power exercised by someone in the future that can be extraordinary."
Indeed, draft legislation that was released this week by the House Financial Services committee would give the Treasury a lot of new clout.
For example, the bill would create an oversight council to watch over big financial firms and require some to shore up their capital reserves. The Federal Reserve would have a big role in determining those levels, but the Treasury secretary would serve as chairman of the council. And that troubles some lawmakers and experts.
"The idea that the Treasury should assume such a large role is, in my view, a problem, " said Jane D'Arista, for Americans for Financial Reform, a coalition of consumer advocate groups and labor unions. "The council should have more responsibility, and I don't think it should be under the thumb of the Treasury."
Also, under the bill being debated, the Treasury secretary's approval would be needed to pull the trigger before the government takes over a giant failed financial company. (Two-thirds of the members of the Fed and Federal Deposit Insurance Corp. boards would also have to agree.)
Even more controversial: The Treasury's approval would be needed before the government made loans to and bought assets of troubled and, in some cases, healthy firms.
Geithner has maintained in public comments that he needs such power to unwind the kind of multi-billion dollar companies that pose broad threats to the economy. He denied that his office would use such power to simply dole out bailouts, saying he would oppose any bill that gave such carte blanche.
"I would not support it -- would not want to have to live under it and administer it. And it's just not the proposal we are describing," Geithner said.
Indeed, in response to criticism of the bailouts, House leaders have made at least one big change in the proposed legislation: Regulators would be able to recoup money used in the unwinding of big firms by assessing fees on firms with more than $10 billion in assets.
But some on the political left and right still worry that the power Congress is contemplating giving Treasury could lead to more bailouts, even if bailouts were simply fronted with taxpayer dollars.
"Passing good regulation is not an excuse for passing permanent, unlimited bailout authority," said Rep. Brad Sherman, D-Calif., who believes regulators should ask Congress for any money used to wind down firms.
House Republicans say they'd prefer that Congress establishes a special bankruptcy court with the power to unwind big financial firms.
Administration officials and House Financial Services Committee Chairman Rep. Barney Frank, D-Mass., have argued that a new bankruptcy court is not good enough to deal with the kinds of systemwide failure these institutions can trigger. They point to the repercussions of the Lehman Brothers bankruptcy in September 2008.
"If they lose the capacity to fund, then they can cause enormous damage to the system as a whole, so you need a slightly different regime for banks, because banks are different from a regular company," Geithner said.
Under the legislation, regulators could "wipe out" entire classes of creditors, Frank said. They could force different stakeholders to take haircuts.
"You say you don't like what we're doing, because it's too creditor unfriendly. Yeah, that's what we want to be," Frank told a banking industry official this week.
But some experts say they worry about empowering regulators, who can be susceptible to lobbying and politics, to favor some creditors over others.
"Enhanced resolution authority would allow the government to put money into a private firm and to change contracts," said Phillip Swagel, an economist and former assistant Treasury secretary in the Bush administration who teaches at Georgetown University.
Giving such broad new power to the executive branch is not unprecedented but is usually limited to wartime situations, said law professor Stephen Vladeck of American University.
"It's understandable that members of Congress for both partisan and institutional prerogative reasons would be a little bit nervous," said Vladeck. "Republicans are opposed because of who is in the White House. And even Democrats would balk at least a little bit."

Features

These Fortune 100 employers have at least 350 openings each. What are they looking for in a new hire? More

It would be the world's second-biggest economy. See how big companies' sales stack up against GDP over the past decade. More