AIG profitable for second straight quarter
The troubled insurer said it continues to benefit from stabilization in the housing and credit markets, but future quarters will continue to be volatile.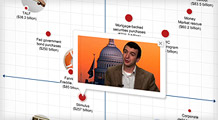 The collapse of Lehman led to a deeper recession and a litany of government programs to try to end the pain. We rate just how bold and effective the plans have been so far.
NEW YORK (CNNMoney.com) -- AIG reported its second profitable quarter in a row early Friday, as stabilization in its insurance businesses, and the credit and mortgage markets helped boost results.
The troubled insurer said its net income rose to $455 million, or 68 cents per share, an improvement over the $24.5 billion loss from a year earlier. Results included a one-time net charge of $1.5 billion for capital losses and hedging.
Without the charge, AIG would have earned $1.9 billion in the quarter, or $2.85 per share. Analysts polled by Thomson Reuters, who typically exclude one-time events, forecasted earnings of $1.98 per share.
Sales for the New York-based company rose 189% to $26 billion, topping analysts' forecasts of $23 billion.
"Our results reflect continued stabilization in performance and market trends," said AIG Chief Executive Robert Benmosche in a statement. "AIG employees are working to preserve the strength of our insurance businesses in a challenging market."
In August, AIG reported that it had returned to profitability after six straight losing quarters, a stretch in which the company lost more than $100 billion.
Shares of AIG (AIG, Fortune 500) tumbled 9% in morning trading to $35.70. AIG's stock, which has nearly tripled since March, is down about 25% from its highs of around $50 in mid-September.
The return to more solid footing also put the company in a better position to pay back the $89.3 billion it owes taxpayers.
Troubled asset portfolio shrinking: AIG made more progress winding down the sizeable financial products division portfolio that brought it to the brink of collapse in September. AIG has managed to reduce FP's derivative portfolio by 28% in 2009, reducing those holdings to $1.1 trillion. That's $200 billion lower than the size of the troubled asset holdings in the second quarter.
As the mortgage market begins a comeback, the value of the volatile credit-default swap insurance that AIG wrote on mortgage-backed securities increased. AIG Financial Products reported a $1.4 billion profit in the third quarter, compared to an $8.3 billion loss during the same period a year ago.
Asset sales speeding up: An improving credit situation helped AIG sell off $3 billion of assets in the quarter, more than doubling the number of assets it sold in the first half of 2009. The company said it will use the proceeds of those sales to repay its federal loans.
AIG said an improved credit market has helped speed up the pace of asset sales. Last month, the company announced its biggest sales to date: an agreement to sell Taiwanese life insurance company Nan Shan for $2.2 billion.
Still, the company hasn't raised close to enough funds to pay back its loans. As a result, AIG said it will complete a previously announced sale of stakes in two of its foreign life insurance subsidiaries to the government this quarter. In exchange, the Fed will forgive $25 billion of its $44.8 billion loan to the insurer.
Benmosche warned that sales of those giant subsidiaries would make future financial results more volatile, due to hefty restructuring charges. With an expected before-tax charge of $5 billion for those sales, analysts expect AIG to wind up swinging back to a loss in the fourth quarter.
Insurance stabilizing: Though premiums were down, AIG said there were signs of stability in its core insurance businesses.
For AIG's general insurance business, recently branded as "Chartis," net premiums written were down 13% from last year. But the company said business retention was at its highest level since the company's near collapse in September 2008, and pricing remained stable.
Life insurance premiums fell 16.1% from the same period last year, but the company said written insurance has remained flat this year as business stabilized.
AIG has maintained for more than a year that its core insurance business remained solid, and the financial products division was the source of the company's woes.

Features

These Fortune 100 employers have at least 350 openings each. What are they looking for in a new hire? More

It would be the world's second-biggest economy. See how big companies' sales stack up against GDP over the past decade. More