Art auction lifts hope for industry rebound
Sales of Impressionist and modern art at Sotheby's auction house rake in more than $181 million, surpassing estimates.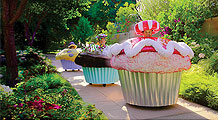 Each year, Neiman Marcus unveils a handful of over-the-top fantasy holiday gifts. Take a quick spin through the luxury retailer's 2009 Christmas Book and you just might forget about scaling back this year.
NEW YORK (CNN) -- A recent sale of Impressionist and modern art at Sotheby's auction house exceeded sales estimates and raised the hopes of industry insiders that a rebound is under way.
Sotheby's reported total sales of $181,770,000 on Wednesday night and featured five works that sold for more than $10 million. The auction house initially thought it would take in $115.3 million.
"Wonderful," said Emmanuel Di Donna, Sotheby's vice chairman, Impressionist and modern art worldwide, director of evening sales.
A veteran of Sotheby's for 15 years, Di Donna oversaw the evening sales which included 66 lots, or pieces of work.
More than 800 attendees went to the highly anticipated auction and 70 bidders were on the phone from all over the world. The two-hour session got off to a breathtaking start when it began.
The vibe of the room was "electric" said Di Donna. "There was pent-up demand from the start of first lot which featured Salvador Dali's "Giraffe on Fire."
Dali's "Giraffe on Fire" eventually sold for $1,874,5000 and it was expected to bring $150,000 to $200,000.
Other artworks that exceeded estimates included Andre Derain's "Barques au Port de Collioure," which brought $14,802,500 and Kess van Donen's "Jeune Arabe," which sold for $13,802,500.
Sotheby's recorded sales of 93.4% of the total lots when they typically average from 70 to 90%. More than 64%of the lots sold above its estimates on Wednesday.
The successful night's take was a breath of fresh air for buyers and sellers alike who all seemed to be sitting on the sidelines for several months waiting for something to happen.
"I predicted a year ago that contemporary art sales would rebound," said John Smiroldo, publisher and founder of Antiques and Fine Art magazine.
"There was an enormous amount of money standing on the sidelines and people are now putting it into less risky investments," added Smiroldo. "It's a good thing for the market. What has happened is it made people think they can get good value for artists that stand the test of time. It was a great auction of blue-chip artists. With the dollar weakening and inflation soon to hit consumers there's a flight to blue-chip artists and many are turning art into an asset class."
Art in America magazine's editor Marcia Vetrocq also agrees that the results from Sotheby's made sellers happy. "And given the current economic climate there's no way that this couldn't be a sigh of relief on the part of those in the industry."
Vetrocq attributed Sotheby's recent success to a careful pruning of works and their calculations of estimates. Of the 66 lots that were auctioned, 39 came from a single collection which people have been "panting for," she said. "The release of these works was a cause of celebration" said Vetrocq.
But while Vetrocq was ecstatic with the results she is also optimistically cautious about the future. "People who follow this as an economic indicator will become encouraged but the real test is next week when the post-war art goes on sale." said Vetrocq.
Cross-town rival, Christie's auction house, declined to comment on the huge night celebrated by Sotheby's, but it voiced upbeat views following its recent sale Tuesday night where they recorded expected sales of just over $65 million dollars of Impressionist and modern art.
"This remains a buoyant market for the freshest and finest works of Impressionist and modern art, as we witnessed Tuesday evening with the extraordinary results achieved for Rodin's "The Kiss" and for Edgar Degas's "Danseuses," said Toby Usnik, Christie's spokesperson.
"We expect strong results next week for our major sales of post-war and contemporary art in New York, which will include rare and important works by Jean-Michel Basquiat, Andy Warhol, and Jeff Koons."
Can the market for high-end art be sustained? Smiroldo cautions that while it's a good time to buy it's not going to be the like the good market days of the last five years. "We're going to see a steady controlled rise in values."

Features

These Fortune 100 employers have at least 350 openings each. What are they looking for in a new hire? More

It would be the world's second-biggest economy. See how big companies' sales stack up against GDP over the past decade. More