Google to buy mobile ad provider
Search leader buys AdMob for $750 million, adding the mobile Internet ad server to its ranks to help advertisers target mobile users.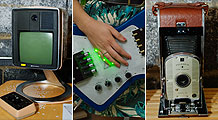 The Gizmodo Gallery in New York, which opened on Sept. 23, features 80 of the coolest gadgets from today and yesteryear. Here are our 6 favorites.
NEW YORK (CNNMoney.com) -- Google said Monday that it plans to pay $750 million in stock for AdMob, a company that provides display advertising technology for mobile Internet sites.
The search giant said the acquisition will help the company's advertising partners improve how they target mobile Web users, as well as refine advertising formats to get end-users to click on more ads. All of that will ultimately help advertisers to more effectively monetize their mobile ads, said Google.
"We're proud of the progress we've made towards accomplishing this goal, and joining Google will only accelerate this process, ultimately leading to very real benefits for end users around the world," said AdMob Chief Executive Omar Hamoui in a statement.
Founded in 2006, AdMob serves mobile Internet ads for companies like Ford (F, Fortune 500), Coca-Cola (KO, Fortune 500) and Procter & Gamble (PG, Fortune 500).
"While this industry is still in the early stages of development, AdMob has already made exceptional progress in a very short time," said Susan Wojcicki, Google's vice president of product management, in a statement.
This is the latest in a series of recent moves by Google (G) to streamline advertising for companies that use Google's Internet ad tools. In September, Google introduced its DoubleClick Ad Exchange, improving advertisers' ability to target end users with display ads.
Google said mobile advertising is a growing new area that has "enormous potential as a marketing medium." The purchase of AdMob compliments Google's full-steam-ahead push into mobile phones, namely by growing the number of phones that use its Android open operating system platform.

Features

These Fortune 100 employers have at least 350 openings each. What are they looking for in a new hire? More

It would be the world's second-biggest economy. See how big companies' sales stack up against GDP over the past decade. More