Wal-Mart plans Black Friday all-nighter
Discount superstore to stay open through Thanksgiving and Black Friday.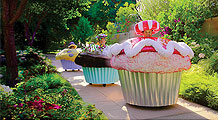 Each year, Neiman Marcus unveils a handful of over-the-top fantasy holiday gifts. Take a quick spin through the luxury retailer's 2009 Christmas Book and you just might forget about scaling back this year.
NEW YORK (CNNMoney.com) -- In preparation for the traditional kickoff of the holiday shopping season, Wal-Mart Stores Inc. announced Wednesday that most of its stores will be open 24 hours for "post-Thanksgiving Day events."
Nearly all 2,737 Wal-Mart Supercenters are already 24 hours, but the change will apply to almost all of the retailer's 810 discount stores. Local law in some areas prevent stores from operating 24 hours.
Last year, Wal-Mart (WMT, Fortune 500) discount stores closed in the evening on Thanksgiving Day and reopened early for Black Friday. In some instances, shoppers became unruly, with one worker trampled to death at store in Valley Stream, N.Y.
In a statement, Wal-Mart said store-specific plans "were developed in consultation with leading safety experts" to address how customers will enter, flow throughout the store and around sales merchandise and through checkout aisles.
"This is part of our overall program to make our stores safer and more convenient for our customers this year," said Daphne Moore, spokeswoman for Wal-Mart.
The in-store specials will be available in all stores beginning at 5 a.m. on Black Friday.

Features

These Fortune 100 employers have at least 350 openings each. What are they looking for in a new hire? More

It would be the world's second-biggest economy. See how big companies' sales stack up against GDP over the past decade. More