Stuffing planes like Thanksgiving turkeys
Fewer air passengers expected for the holiday, but even fewer airplanes to result in crowded flights: industry group.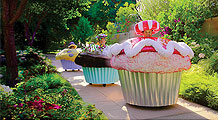 Each year, Neiman Marcus unveils a handful of over-the-top fantasy holiday gifts. Take a quick spin through the luxury retailer's 2009 Christmas Book and you just might forget about scaling back this year.
NEW YORK (CNNMoney.com) -- Thanksgiving air travelers can expect crowded planes as a result of the most dramatic capacity cuts since World War II, according to the industry's trade group.
Airplanes will be full, despite a 4% reduction in passenger volume for the Thanksgiving season compared to last year, according to the Air Transport Association. This is because the industry has slashed capacity by 6.9% year-over-year to improve efficiency in the face of higher fuel costs and slumping demand, said the trade group.
"Our expectation is that there will be fewer passengers flying because of economic measures," said ATA spokeswoman Elizabeth Merida. "The planes will still be full, even though the airports will be 4% less crowded."
This year has seen the biggest capacity reduction since 1942, when civilian aircraft were diverted towards the war effort, resulting in a cut of 16.9%, she said.
Since then, the industry has grown its capacity with few interruptions. The most dramatic capacity plunge, aside from the current decline and World War II, occurred immediately after the terrorist attacks of Sept. 11, 2001, but it was relatively short-term.
Packed airports and planes but fewer delays
Anne Banas, executive editor at smartertravel.com, said with fewer planes in the air the holiday travel experience may be streamlined.
"Yes, planes will be full, but I don't think there will be so many delays," she said. "[It will be] smooth sailing compared to last year, in terms of getting stuck in the airports, because there are so few airplanes compared to last year."
But she added that the airports during the Thanksgiving holiday are packed with once-a-year fliers who tend to be less "savvy" in negotiating airport security, holding up the line for frequent fliers.
Rick Seaney, chief executive of Farecompare.com, said the airports will be "jam-packed full," despite the decline in passenger volume, because the Thanksgiving travel season is the busiest of the year - even busier than Christmas.
Forget about bringing those presents
The biggest and the newest obstacle facing air travelers will probably be the fees for checked baggage, said Seaney, which were implemented by most of the carriers last year.
"Everybody now is pretty much educated on baggage fees, so there's going to be absolutely no room in the cabin for packages," he said. "So you might want to send your bags ahead. You don't want to be in the back half of the boarding cycle."
As for air fares, the Air Transport Association said that ticket prices are down 13% this year, compared to 2008. Thanksgiving is fast approaching for those who haven't purchased tickets. But Seaney said that some airlines, such as Delta Air Lines (DAL, Fortune 500) and UAL Corp.'s (UAUA, Fortune 500) United Airlines, have shortened their pre-flight purchase windows to seven days from 14, meaning that passengers still have time before fares hit their dramatic, short-term increases.
Banas suggested that people who haven't purchased their tickets should schedule their return flight for the Monday following Thanksgiving, rather than the Sunday. The Monday fare should be cheaper, she said, because most travelers "maximize the weekend" and fly on Sunday.
As a final word of Thanksgiving advice, Seaney urged travelers to not vent their frustrations on airline and airport employees.
"The people who are working those holidays are just as frustrated about being at the airport as you are on the holiday, and you're not going to get what you want if you blow up at them," he said.

Features

These Fortune 100 employers have at least 350 openings each. What are they looking for in a new hire? More

It would be the world's second-biggest economy. See how big companies' sales stack up against GDP over the past decade. More