High-tech security, low price tag
Wireless cameras, remote-controlled dead bolts, and other security tools for a price small companies can afford.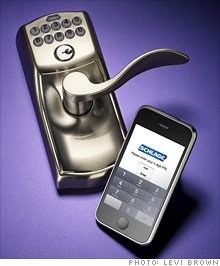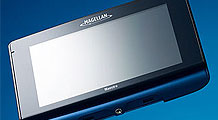 Need to plan the best route and dodge speed traps along the way? Try these GPS devices and radar detectors.
(Fortune Small Business) -- Until recently, small businesses looking for high-tech building security had few affordable options.
Big firms such as ADT, Brinks (BCO) and Honeywell (HON, Fortune 500) offered remote-control cameras and locks for as much as $50,000, including hefty annual fees. But this year, one small player set out to disrupt the market. In January, Schlage, based in Carmel, Ind., released an ultra-low-cost networked home-security product aimed at residential and small business users.
Schlage LiNK consists of video cameras, remote-control dead bolts, lighting-control systems and remote monitors. Pricing starts at $299 for a dead bolt. A wireless camera runs $179. Light controllers cost $49. All are designed for easy installation.
"They require only a screwdriver," boasts Steven Samolinski, solution manager for Schlage.
Schlage LiNK uses a new kind of wireless standard, ZigBee, from Milpitas, Calif.-based Z-Wave. The technology resembles Bluetooth but works at longer ranges, allowing the modules to connect with one another and to the Web. A LiNK dead bolt, camera and control unit can monitor anyone who enters a home or office, evaluate the overall security of the space and even adjust the temperature.
Big-box retailer Lowe's (LOW, Fortune 500) started selling the system in June. But Schlage won't have the small business market to itself for long. Tool behemoth Black & Decker (BDK, Fortune 500) is expected to ship a similar low-cost security offering later this year as part of a deal with Control4 of Salt Lake City.
Some analysts aren't convinced by either system.
"I don't buy the security pitch much," says Rebecca Wetteman, vice president at Boston firm Nucleus Research. She argues that employees quickly learn to defeat the technology by, say, propping open doors.
Samolinski counters that Schlage's system is more secure than many current arrangements. "How many homes and offices have a key under the mat?" he says. "With Schlage LiNK you can activate the lock to let a contractor in remotely, and watch him as you do it."

To write a note to the editor about this article,
click here
.