Wal-Mart: Sales environment still 'difficult'
World's largest seller reports better-than-expected profits but suffers a drop in store sales as Americans continue to spend very cautiously.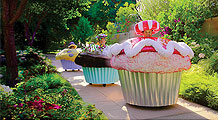 Each year, Neiman Marcus unveils a handful of over-the-top fantasy holiday gifts. Take a quick spin through the luxury retailer's 2009 Christmas Book and you just might forget about scaling back this year.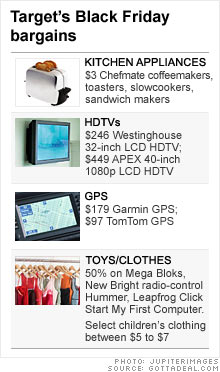 NEW YORK (CNNMoney.com) -- Wal-Mart Stores reported a third-quarter profit Thursday that beat analysts' estimates while its store sales fell in the period amid a "difficult" selling environment.
Wal-Mart (WMT, Fortune 500), the world's largest retailer, posted earnings of 84 cents per share for the three-month period ended Oct. 31. That is up from 77 cents a share a year ago and was boosted by inventory reductions and other cost-cutting measures.
Analysts were expecting profit for the quarter of 81 cents a share, according to Thomson Reuters.
The retailer's net sales in the period were $98.7 billion, up 1.1% from a year ago.
However, Wal-Mart's same-store sales declined 0.4% in the quarter. Same-store sales, which measure sales at stores open at least a year, are a key measure of a merchant's performance.
"The sales environment continued to be difficult this quarter, but customer traffic is up throughout the company," Wal-Mart CEO Mike Duke, said in a statement.
Wal-Mart also issued a disappointing same-store sales forecast for the fourth quarter, which includes the holiday shopping period that typically is the most critical selling season of the year for retailers.
This was the second consecutive quarter that Wal-Mart has reported a same-store sales decline at the same time that the company maintains that it is stealing market share away from its competitors with its recession-friendly low prices.
Given Wal-Mart's dominance in the retailing industry, and the fact that more than 200 million consumers shop at its stores every week, the seller is often seen as a barometer of the health of the consumer and of the economy.
Therefore, its same-store sales weakness, combined with a tepid same-store sales guidance for the fourth, could fuel concerns that consumer spending is not likely to rebound any time soon.
Consumer spending is a vital driver of the economy, fueling two-thirds of all economic activity.
In a pre-recorded call to discuss the company's results, Duke said he's confident that trend will continue even after the economy rebounds.
"When the recession is behind us, we believe that our customers will continue to shop with a new interest for value," Duke said, adding that he expects both Wal-Mart discount stores and the company's Sam's Clubs warehouse stores to benefit in the long run.
Most merchants log 50% or more of their profits and sales for the full year in the two months of November and December.
Still, Wal-Mart said it expects fourth-quarter same-store sales to be flat, plus or minus 1%, compared to a 2.4% gain in the same period a year ago.
For the full-year, Wal-Mart slightly adjusted its profit range higher, saying it now expects earnings to be between $3.57 to $3.61 a share from its earlier guidance of $3.50 to $3.60 a share.
Analysts currently expect the retailer to post a full-year profit of $3.58 a share, according to Thomson Reuters
-- CNNMoney.com staff writer Aaron Smith contributed to this report.

Features

These Fortune 100 employers have at least 350 openings each. What are they looking for in a new hire? More

It would be the world's second-biggest economy. See how big companies' sales stack up against GDP over the past decade. More