Intel and AMD reach $1.25B settlement
Rival chipmakers reach a five-year agreement in which both companies share patent licenses, AMD drops its legal cases against Intel, and Intel pays a fine to AMD.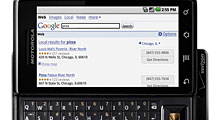 Consumers looking to buy electronics for holiday gifts won't have to break the bank this season.
NEW YORK (CNNMoney.com) -- Rival chipmakers Intel Corp. and Advanced Micro Devices on Thursday announced an agreement to settle all of their long-standing legal disputes.
The agreement, which will last for five years, allows both companies to share patent rights. Both Intel and AMD will give up any claims of breaching the previous agreement between the chipmakers.
In addition, Intel will pay AMD $1.25 billion and agree to abide by "a set of business practice provisions." In return, AMD will drop all three of its legal suits against Intel.
"With this agreement, we are trying to reset the relationship between AMD and Intel," said Dirk Meyer, AMD's chief executive, on a conference call. "That relationship has been intense and emotional, and at times acrimonious for all too many years."
Meyer said the agreement puts both companies on a "level playing field" and puts them on the path to a "free and open market in the processor world."
"We look forward to healthy competition with the respect that we would expect from two world-class companies," said Meyer. "[Intel] doesn't have an obligation to help us; they do have an obligation not to do things that are intended to hurt us."
Intel CEO Paul Otellini said on a separate conference call that the growing legal disputes between the two companies had grown overly expensive and time-consuming.
"AMD and Intel took a step back," Otellini said. "There comes a time when ... both companies are wondering if all that time and money makes sense. The best path forward was to bring closure to all suits."
Shares of AMD (AMD, Fortune 500) leapt 20% in midday trading. Intel (INTC, Fortune 500) shares rose 1%.
The companies had been feuding about antitrust violations and patent disputes in American and Japanese courts. In May, European regulators levied a record $1.5 billion fine against Intel for unfairly paying computer makers to delay or even cancel products that contained chips made by AMD.
"While the relationship between the two companies has been difficult in the past, this agreement ends the legal disputes and enables the companies to focus all of our efforts on product innovation and development," both companies said in a statement.
The settlement won't likely affect an antitrust suit that New York Attorney General Andrew Cuomo levied against Intel last week. Cuomo's suit charges that Intel violated both New York and federal monopoly laws "by engaging in a worldwide, systematic campaign of illegal conduct."
Otellini said Thursday that Intel strongly disagrees with Cuomo's case.
"We believe it is entirely without merit," Otellini said. "It is unfortunate that the New York Attorney General distorted the facts.
Calls to Cuomo's office were not immediately returned.

Features

These Fortune 100 employers have at least 350 openings each. What are they looking for in a new hire? More

It would be the world's second-biggest economy. See how big companies' sales stack up against GDP over the past decade. More