Cop car war heats up
Following GM's announcement of a new police-only Chevrolet, Ford announces a replacement for the Crown Vic.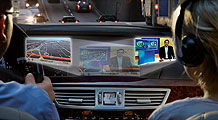 Cars that park themselves. Driver-passenger split screen computers. Night vision. Just a few of the innovations that make driving easier, safer and more fun.
Find your next Car

NEW YORK (CNNMoney.com) -- Ford Motor Co. is firing back following General Motors' announcement that it would begin selling a police-only Chevrolet sedan in the United States in early 2011.
That's just about the time Ford is expected to end production of the Ford Crown Victoria Police Interceptor, which is currently the most popular police car in America. Ford claims that of the 60,000 to 70,000 police cars sold in America every year, it sells about 45,000.
Ford (F, Fortune 500) didn't provide any details of its new Police Interceptor but promised the car would be revealed to the public in the first quarter of 2010.
"We have heard the repeated requests from the law enforcement community to continue uninterrupted support of the law enforcement community," said Mark Fields, Ford's president of The Americas in a company announcement. "Ford is answering the call with the new Police Interceptor -- engineered and built in America."
The current Crown Victoria Police Interceptor is built in Canada.
GM's Chevrolet Caprice PPV, which is set to compete against Ford's Police Interceptor, will be imported from Australia. The car is built is built by GM's Holden subsidiary, which is responsible for engineering rear-wheel-drive vehicles for GM.
Ford's new police vehicle was designed with input from "Ford's Police Advisory Board," Ford said. The car has been under development for the past 14 months, Ford said.

Features

These Fortune 100 employers have at least 350 openings each. What are they looking for in a new hire? More

It would be the world's second-biggest economy. See how big companies' sales stack up against GDP over the past decade. More