No sex for this Citi
Citigroup has recovered from its near death experience. But after a hot rally this summer, the stock has stalled even though investors still lust for other banks.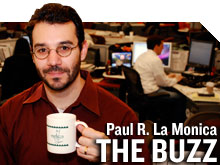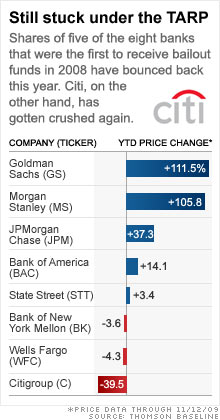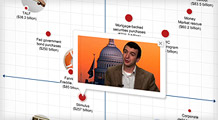 The collapse of Lehman led to a deeper recession and a litany of government programs to try to end the pain. We rate just how bold and effective the plans have been so far.
NEW YORK (CNNMoney.com) -- Citigroup may no longer be on life support. But that's little consolation for the bank's numerous shareholders, a group that now includes every taxpayer in the country.
Shares of Citi, like the shares of most other banks, did rally sharply from the depressed lows of early March. But while other bank stocks have continued to head higher, Citi (C, Fortune 500) has lost its momentum.
Citi traded as high as $5.43 in late August but now hovers around $4. At the same time, other big banks, most notably JPMorgan Chase (JPM, Fortune 500) and Bank of America (BAC, Fortune 500), have continued to rally and are near 52-week highs.
And while shares of other financial giants, such as Goldman Sachs (GS, Fortune 500), Morgan Stanley (MS, Fortune 500) and American Express (AXP, Fortune 500), have more than doubled so far in 2009, Citi has still not completely recovered the ground it lost over the winter. Despite quadrupling since March, Citi's stock is still down almost 40% this year.
So is there any hope for taxpayers? Maybe. But be prepared to wait a while.
Citi, which needed $45 billion in bailout funds to stay afloat, is now firmly under the government's thumb.
And while the government's backing may have helped Citi bounce back from the brink -- the stock briefly traded below $1 a share on fears that Citi would be nationalized -- it may also be a key reason why Citi is missing out on the broader bank rally.
Taxpayers own more than a third of the bank following the conversion of a big chunk of preferred shares the government originally acquired in exchange for TARP money into common stock.
Citi has since been busy shedding assets in order to raise capital. Apparently, you can't be too big to fail if you're no longer intent on being that big.
According to reports, Citi is close to finalizing a deal to sell its Japanese telemarketing unit Bellsystem24 to private equity firm Bain Capital for about $1.1 billion. That deal follows last month's sale of Nikko Cordial Securities to Sumitomo Mitsui Banking Corporation last month for $8.7 billion.
And Citi hasn't just been downsizing in Japan. The company announced last week that it filed for an initial public offering of a portion of its Primerica life insurance unit. Once the IPO is complete, Citi said it will sell its remaining stake in Primerica.
The bank has also agreed to sell its controversial energy-trading division Phibro to Occidental Petroleum (OXY, Fortune 500) and sell three credit card portfolios to U.S. Bancorp (USB, Fortune 500).
Finally, in the most sweeping move of all, Citi merged its Smith Barney brokerage unit with Morgan Stanley earlier this year. That gives Morgan Stanley a majority stake in the joint venture.
This is all part of Citi chief executive officer Vikram Pandit's strategy to focus on Citi's core banking business and unload other divisions. The company eventually intends to split into two separate entities -- Citicorp for the banking business and Citi Holdings for everything else.
But one Citi shareholder thinks that the company is being pushed to make sales at extremely low prices and that this is not helping the stock.
"We said three years ago that it was a good idea to break Citi up when it was $50 a share. Now at $4 a share, they decide that's the best strategy. Let's sell assets at trough valuations," lamented William Smith, president of SAM Advisors LLC, an investment firm that owns Citi stock.
"I'm all for management taking more time so they can get a better premium. They should wait until the assets increase in value," Smith added.
Smith said that he still is willing to own the stock though because he believes that once the company is in a position to pay back bailout funds and rids itself of government influence, the stock should do much better. But he said investors will have to be patient though.
"Citi will pay back the government eventually and the company will continue to be broken up. That might take years, but when it happens you could be looking at a stock in the mid-teens. If you hold it from 4 to 15, that's not a bad return," he said.
Anton Schutz, portfolio manager for the Burnham Financial Services and Burnham Financial Industries mutual funds, also said that Citi would be better off once it can pay taxpayers back.
"The government selling its stake would be a positive catalyst for Citi. Most capitalists would applaud that," he said. "If the government were able to sell its stake in Citi I'd be an interested buyer."
But therein lies the problem. The government probably would be loath to sell Citi at its current price. And as long as Citi's fundamentals don't improve, it's hard to imagine the stock heading significantly higher anytime soon.
Citi did technically report a small profit in the third quarter, but those earnings were wiped out once you factor in the dilution that took place from the government converting its stake to common stock.
Analysts are forecasting a loss for Citi in both the fourth quarter of this year and the first quarter of 2010. And those estimates definitely seem reasonable as rising unemployment and continued economic concerns could lead to more problems in Citi's credit card and mortgage portfolios.
Add all that up and it doesn't look promising for Citi -- or all of us Citi shareholders.
Talkback: Should the government sell its stake in Citigroup or do you think the bank still needs federal help? Share your comments below.

Features

These Fortune 100 employers have at least 350 openings each. What are they looking for in a new hire? More

It would be the world's second-biggest economy. See how big companies' sales stack up against GDP over the past decade. More