Get ready for flatscreen TV price wars
Retail experts say the sweetest deals in the coming weeks will be on smaller LCD televisions and some bigger-size plasma TVs.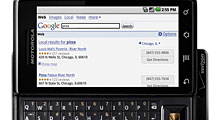 Consumers looking to buy electronics for holiday gifts won't have to break the bank this season.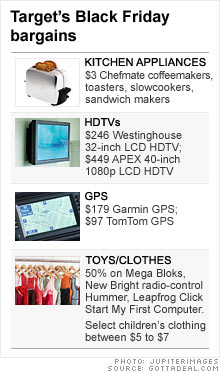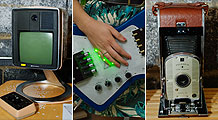 The Gizmodo Gallery in New York, which opened on Sept. 23, features 80 of the coolest gadgets from today and yesteryear. Here are our 6 favorites.
NEW YORK (CNNMoney.com) -- If you're in the market for a new flatscreen TV this holiday season, you're in luck.
As nervous merchants prepare to draw reluctant shoppers with juicy sales, retail experts say some of the sweetest deals in the coming weeks will be on high-definition televisions.
As they compete for customers, TV sellers are going to wage a price war, and the biggest bargains will likely be on smaller models.
"The difference from prior holiday discounts on TVs is that consumers will find really, really good prices on 32-inch to 37-inch HDTVs and not necessarily the 65-inch models," said Phillip Swann, a consumer electronics expert and publisher of TVpredictions.com.
"We're already seeing 32-inch LCD models under $400. Typically they are $500, or more," he said. "And we're also seeing prices drop from about a $1,000 for 40-inch screens to $800."
One example, Target (TGT, Fortune 500) is reportedly featuring a 32-inch Westinghouse LCD HDTV for $246 as a "doorbuster special" on Black Friday, the day after Thanksgiving when holiday shopping kicks off in earnest.
"The $246 HDTV is the lowest price that we've ever seen for that model," said Brad Olson, founder of Gottadeal.com, a Web site that markets itself as one of many "official" Black Friday deal sites.
Ross Rubin, a consumer electronics analyst with market research firm NPD Group, agreed. "A 32-inch [TV] under $400 is going to be a key price point for merchants," Ross said.
"The smaller TV models also appeal to consumers who already have a 47 or 50-inch HDTV in the living room and they want to add another flatscreen in the bedroom or elsewhere," Rubin said.
At the same time, the economy and a shaky job market is also spurring interest in smaller-sized TVs.
"Consumers still want to buy a new TV, but at a smaller pricetag," said Swann.
Google (GOOG, Fortune 500) searches in the past 90 days for 32-inch LCD HDTVs have been 44% higher than searches for 37-inch LCD HDTVs, and 24% higher than searches for 42-inch LCD models.
Prices are slipping on big screens
Even without deep discounts on the bigger TV models, experts say consumers are still paying less versus last year as industry prices retreat about 20% overall on HDTVs.
"Some 46-inch and 52-inch HDTV models are between $1,500 to $2,000 but that's still less than last year," said Swann.
But if you're determined to bag a bargain on a bigger screen, here's a useful tip: opt for a 720p model. "Your best chance on a great bargain is on a plasma 720p 50-inch TV for maybe a $1,000," said Swann.
He said retailers are aggressively discounting that sub-category of HDTVs in favor of stocking more of the 1080p resolution models. "The 720p is more affordable, and really, most people can't even tell the difference in picture quality between the 720p and the 1080p," he said.
So where will bargain hunters find the best deals? NPD's Rubin says Wal-Mart, Best Buy, Costco (COST, Fortune 500) and online merchants will duke it out on TVs this holiday season.
"With the absence of Circuit City, both Best Buy (BBY, Fortune 500) and Wal-Mart (WMT, Fortune 500) see an opportunity to capture Circuit City's piece of the TV pie," Rubin said.
Circuit City, the former No. 2 electronics seller after Best Buy, went out of business earlier this year.
In a sign of how fierce the battle on price might be, Wal-Mart jump started its TV promotions last weekend, offering its shoppers 42-inch Sharp 1080p HDTVs for $498, 46-inch Sharp model for $698 and 52-inch Sharp model for $898.
However, Best Buy, the electronics seller touts a year-round price-matching policy whereby it will match a competitor's lower price on the same exact television model.
"We shop our competitors daily." Said Barry Judge, Best Buy's chief marketing officer. "Recently, of the products we carry that overlap with Wal-Mart, we were at or below their price on 78 percent of the products. For instance, Best Buy was priced at or below Walmart on 12 of 13 identical TVs."
Finally, both Swann and Rubin strongly suggest that shoppers bag the best deals when they find them because merchants are stocking fewer number of products for the holiday season.
"In previous years, I'd tell people wait until Dec. 10th or Dec. 15th before you buy," said Swann. "This time, take it when you see it or it might not be around again."

Features

These Fortune 100 employers have at least 350 openings each. What are they looking for in a new hire? More

It would be the world's second-biggest economy. See how big companies' sales stack up against GDP over the past decade. More