Retail sales surge
October sales rise 1.4% to $347.5 billion. Excluding sales of autos, total retail sales edged up only 0.2%.
When will you be debt free?
Enter credit card information
CC name
Balance
($)
Rate
(%)
Minimum
payment($)
2
3
Choose a plan
Minimum payments only
Fixed payments
$ monthly
Debt-free deadline
I want to pay off my credit cards in:
years and months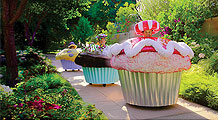 Each year, Neiman Marcus unveils a handful of over-the-top fantasy holiday gifts. Take a quick spin through the luxury retailer's 2009 Christmas Book and you just might forget about scaling back this year.
NEW YORK (CNNMoney.com) -- Retail sales in October rose more than analysts expected, the government reported Monday.
The Commerce Department said total retail sales jumped 1.4% last month, compared with September's revised decline of 2.3%. Economists surveyed by Briefing.com had anticipated that October sales would grow 0.9%.
With Black Friday less than two weeks away, retailers were hoping the report would show consumers signaling a willingness to spend during the all-important holiday sales period.
But sales excluding autos and auto parts edged up 0.2%. That's slightly worse than the 0.4% increase predicted by economists, leaving the holiday outlook a bit murky.
"The overall number was higher than estimates, but with an 0.8% downward revision for September it was a bit of a wash," said Adam York, economist at Wells Fargo.
The summer's Cash for Clunkers program, which ended Aug. 24, "made the numbers jump around so much with revisions that it creates a head fake in trying to call a trend," York said.
Holiday retail season looms. Consumer spending accounts for two-thirds of U.S. economic activity, and data are closely watched to determine whether a recovery is underway. With unemployment at a 26-year high of 10.2%, consumers have been cash-strapped for some time.
But with overall retail sales improving, one analyst said the holiday shopping season may come in stronger than expected.
"Consumer spending bottoms out before the job market does [so] this bodes very well," said John Canally, economist at LPL Financial.
But Wells Fargo's York disagreed, saying 2009 will likely be another tough holiday season for retailers.
"Maybe it won't be as bad as last year, but that's not saying much because 2008 was abysmal," York said.
Outlook. Ian Shepherdson, economist at High Frequency Economics, said the report was positive enough that he now expects to see more than a 2% rise in sales over the fourth quarter of last year.
"Looking ahead, though, the latest softening in [consumer] sentiment suggests that's not sustainable," he said in a research note.
York said gains in retail sales will be largely contained until the labor market starts to improve.
"Without those gains in personal income we just can't see any meaningful rise in sales," York said.

Features

These Fortune 100 employers have at least 350 openings each. What are they looking for in a new hire? More

It would be the world's second-biggest economy. See how big companies' sales stack up against GDP over the past decade. More