China may need to live with weak dollar
The largest foreign holder of U.S. Treasury debt is not happy with the falling dollar and 0% interest rates. But China's tough talk may be just that -- talk.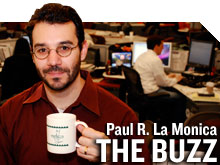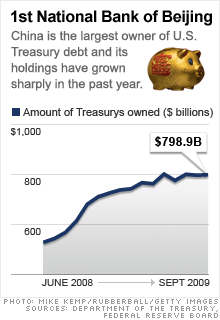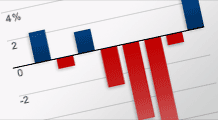 The recovery from the Great Recession has likely started. But many economists are worried about falling into another downturn. Here's what has them concerned.
NEW YORK (CNNMoney.com) -- President Obama is in China this week meeting with that nation's leaders. Since China is the largest foreign owner of U.S. debt, I wonder if they are going to give Obama a free toaster.
According to figures released by the Treasury department Tuesday morning, China held $798.9 billion in Treasury securities as of the end of September. That's up slightly from August and just a hair below the $801.5 billion peak that China held in May.
So there's no way around the fact that China is bankrolling a major part of the U.S. government's stimulus efforts and financial bailouts of the past year.
With that in mind, it's no surprise that China is talking tough about how much money the United States is spending and complaining about how low interest rates are and how weak the dollar is.
Over the weekend, China Banking Regulatory Commission Chairman Liu Mingkang said that the depreciation of the dollar and the Federal Reserve's indications that it won't raise rates anytime soon have caused "massive" speculation in the currency and stock markets around the globe.
China has a legitimate gripe. With interest rates at practically zero for nearly a year now, China is not earning much on its Treasury holdings. The current yield for the 10-Year Treasury note is about 3.35%.
Sure, that's up sharply from all-time lows earlier this year. But the only reason they were that low was because investors were flocking to U.S. debt on fears that the global financial markets were about to suffer a worse fate than anything director Roland Emmerich could dream up. ("Independence Day." "Godzilla." "The Day After Tomorrow." And now "2012." Roland, this obsession with the end of days is a bit much, no?)
Long-term bond yields are still well below their historical norms. And as recently as the middle of 2007 (i.e. before the recession started) yields were above 5%.
So it's easy to see why China isn't thrilled with the Fed's easy money policy. If you owned about $800 billion in bonds, wouldn't you want to earn more than 3.35% on them?
"The Chinese have some valid concerns. Deficits in the U.S. do not seem to be contained and that's encouraging a weaker dollar," said Axel Merk, president of Merk Mutual Funds, a Palo Alto, Calif.-based money manager specializing in currency investments
But should the United States do anything about China's frustrations? Fed Chairman Ben Bernanke has attempted to appease those who are worried about the anemic state of the greenback. In a speech Monday, Bernanke said the Fed is keeping an eye on the recent declines in the dollar.
Still, this could turn out to be nothing more than a war of words. As long as economic growth in the United States remains relatively sluggish and people still have a tough time finding jobs, the Fed will probably believe that it is best to stand pat for the foreseeable future.
"The one thing that will cause the Fed to raise rates is inflation and that's a non-issue right now. There is no pressure on wages," said Matt Lloyd, chief investment strategist at AAM Inc., an investment advisory firm based in Monument, Colo.
So the Fed is probably not going to blink anytime soon and raise interest rates just to satisfy the Chinese -- or other big holders of U.S. debt such as Japan, Brazil and Russia for that matter.
And for all their bluster, the Chinese have yet to show that they are so worried about the dollar and low rates that they are willing to sell U.S. assets to make their point. China's holdings of Treasurys have increased by nearly 30% in the past year.
"China could be fed up with U.S. policies. But it's in nobody's interest for China to say they will dump dollar-based holdings since that would cause disruption to the global markets," Merk said.
Simply put, we still need China and China still needs us. Both nations know that. And while a weak dollar for an extended period of time might make U.S. goods more competitive, China may need to accept that this is also a good thing for them.
Lloyd said that if a weaker dollar creates increased demand for American goods, that could lead to job growth in the U.S. manufacturing sector. The result would be a healthier U.S. economy. And that is ultimately in the best interest of China if they want Americans to keep buying Chinese-made goods.
"China and the U.S. are so intertwined right now. It's a symbiotic relationship," Lloyd said. "As much as they are supporting us by funding our deficit, we are supporting them by being a source for their exports. The saber rattling is a façade more than anything else."
Talkback: Should the U.S. be worried by China's complaints about the weak dollar and low interest rates? Share your comments below.

Features

These Fortune 100 employers have at least 350 openings each. What are they looking for in a new hire? More

It would be the world's second-biggest economy. See how big companies' sales stack up against GDP over the past decade. More