Wall Street: Mixed week ends on a low note
Stocks selloff on Friday as investors respond to mixed economic news and a darkening outlook for technology companies.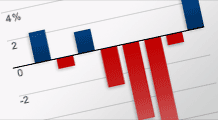 The recovery from the Great Recession has likely started. But many economists are worried about falling into another downturn. Here's what has them concerned.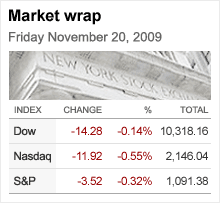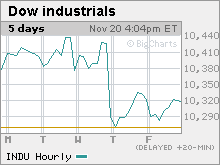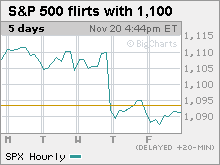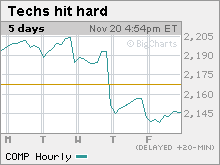 NEW YORK (CNNMoney.com) -- Stocks fell Friday, capping a mostly down week, as investors remained jittery about the economy and the outlook for the technology sector.
The Dow Jones industrial average (INDU) fell 14 points, or 0.1%, to close at 10,318.16. The S&P 500 (SPX) slipped 0.3% to end at 1091.38. The tech-heavy Nasdaq composite (COMP) dropped 0.5% to 2146.04.
Despite Friday's decline, the Dow ended the week with a 0.5% gain. The S&P 500 fell 0.2% and the Nasdaq slid 1% over the last five days. The mixed performance came after all three major gauges posted two consecutive weekly gains.
The dollar rose against rival currencies for the second day in a row, helped by increased demand for safe-haven assets and supportive comments from Federal Reserve officials.
The stronger greenback weighed on the oil market, with crude prices closing below $77 a barrel. Gold prices recovered from early losses to close at another record high.
Wall Street started the week on a high note, closing at 13-month highs on Monday and Tuesday. A softer dollar and bets that U.S. interest rates will remain low for a prolonged period helped boost the S&P 500 above the key 1,100 level early in the week.
But the tone turned more cautious Wednesday after government data showed a surprise drop in new home construction and a pair of software makers issued bearish profit forecasts.
Housing and tech woes continued to plague the market Thursday after a report showed that nearly 10% of all mortgage loans were delinquent in the third quarter and analysts at Bank of America Merrill Lynch downgraded the semiconductor industry.
On Friday, tech shares remained under pressure after PC giant Dell reported weak third-quarter results late Thursday. Homebuilder stocks fell after D.R. Horton posted a larger-than-expected quarterly loss and said conditions in the industry remain challenging.
"The market is suffering from mixed economic news this week," said John Wilson, chief technical strategist at Morgan Keegan. However, the declines were surprisingly small considering the market's recent strength, he added.
"I think the market has to work-off a fairly overbought position," he said.
Analysts said the market was ripe for a move lower given growing concerns that stocks have come too far, too fast. After bottoming at 12-year lows in March, stocks have been on a near-continuous rally fueled by signs of economic stabilization.
"There's a lot of concern that the stock market has gotten ahead of expectations," said Jack Ablin, chief investment officer at Harris Private Bank. "There's not much room to advance without a concurrent improvement in economic news."
Looking ahead, trading is expected to be volatile next week with a busy economic calendar, quarterly results from Hewlett Packard (HPQ, Fortune 500) and thin trading volume.
Economic reports due next week include data on home sales and prices, a revised reading on gross domestic product and a monthly read on consumer confidence.
Dow component H-P reports quarterly financial results after the closing bell Monday.
U.S. markets will be closed on Thursday for the Thanksgiving holiday, and trading will end early on Friday. With many traders taking next week off, analyst said the number of shares trading hands will be small, which could exaggerate swings in the market.
Companies: D.R. Horton (DHI, Fortune 500), the nation's second-largest homebuilder, said its quarterly loss narrowed to $231.9 million, or 73 cents a share, in the fourth quarter ended Sept. 30. Shares fell 15%.
Analysts surveyed by Thomson Reuters were expecting a loss of 30 cents per share.
After the closing bell Thursday,Dell (DELL, Fortune 500) reported a sharp drop in quarterly profit that fell short of Wall Street's estimates. The stock tumbled 10%.
Also on Thursday, analysts at Bank of America Merrill Lynch downgraded the semiconductor industry. That came one day after two key software companies issued cautious profit outlooks.
But in other earnings news, retailer Gap (GPS, Fortune 500) said its quarterly profit surged 25%.
Economy: A government report showed more U.S. states suffered rising unemployment rates, though fewer reported joblessness above the national average in October.
World markets: Asian shares retreated. The Nikkei in Japan lost 0.5% while the Hang Seng fell 0.8%. Major European indexes also closed lower, with the CAC-40 in Paris falling 0.8%.
Money, gold and oil: The dollar rose versus major international currencies, including the euro, the yen and the pound.
Gold rose $4.90 to settle at a record $1,146.80 an ounce.
The price of oil fell 74 cents to close at $76.72 a barrel.
Bonds: Prices for U.S. Treasurys were mixed. The yield on the benchmark 10-year Treasury note, which moves inversely to its price, fell to 3.36% from 3.50% late Thursday. The yield on the 3-month Treasury bill, which is seen as a temporary shelter from market volatility, stood at 0.015%.

Features

These Fortune 100 employers have at least 350 openings each. What are they looking for in a new hire? More

It would be the world's second-biggest economy. See how big companies' sales stack up against GDP over the past decade. More