How an ex-con landed a job
Reformed gun dealer Greg Headley gets a fresh start as an assistant truck driver.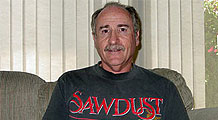 In July, CNNMoney.com told the stories of 4 out-of-work Americans who had just lost their unemployment benefits. Here's where they are today.
Millions of job openings!
NEW YORK (CNNMoney.com) -- Gregory Headley got himself a job.
That's quite a feat in today's economy, even for the most qualified job hunters. But for an ex-convict, it feels like a miracle.
"It's been beautiful," Headley said, while whitewashing tractor trailers for $10 an hour. "I always knew that if I was patient, good things would come."
Headley started his new job on Monday as an assistant truck driver for Container X, a company in the Red Hook section of Brooklyn that unloads imports from container ships and transports them to businesses in the New York City area.
"[The owner] told me not to get too comfortable being a driver's assistant, because he's going to train me to be a truck driver," he said, still wearing the military-issue coat that he once wore in prison.
This is a dramatic change for Headley, who was released in July after 32 months behind bars for selling a firearm. After that, he worked a transitional part-time job as a minimum-wage street cleaner for the Center for Employment Opportunities (CEO), a non-profit organization that has facilitated job placement for 10,000 ex-cons over the last decade.
Then, after months of job searching, CEO put Headley in touch with Gary Porat, the owner of Container X.
"Gary's a good dude," said Headley. "I appreciate the opportunity he's given me. He's looking beyond my rap sheet. He's looking at me as a person. He's looking at me as a worker."
Out of jail, out of luck
Randy Chersak, a job developer for CEO, said it's tough placing ex-cons during a recession that has driven the nationwide unemployment rate up to 10.2%, its highest level in more than 26 years. He said that Porat has been a big help, hiring seven former inmates so far this year.
"Gary is an employer who is very open-minded about giving people a second chance," said Chersak, during a recent visit to Container X, where Porat juggled phone calls and monitored his 65 employees and three-dozen trucks via GPS devices and video cameras as they fanned across the city.
Between calls, Porat described Headley as "very, very much motivated" and said that he had no problem hiring ex-cons.
"I'm not looking at where they came from," he said. "I'm looking at how they can help me at work."
Porat is no stranger to hardship. He said that he served in the Israeli army, sweeping for mines during the 1982 invasion of Lebanon. He moved to New York shortly thereafter, where he started his trucking business in the Crown Heights section of Brooklyn. But he was driven out of the neighborhood by the race riots of 1991, and he relocated to Red Hook.
In hiring former prisoners, he said he hopes to benefit society by bringing down recidivism.
"Why not help somebody who is having big problems in life? If I don't give them a chance, and the next guy won't give them a chance, they have to turn back to crime."
Pros for cons
Porat also said the state government provides incentives for hiring ex-convicts -- a one-time tax credit, ranging from $500 to $1,000, for each hire. He also said that a newly-established program is supposed to reimburse 75% of the ex-convicts' wages from the first three months of employment, but he hasn't seen any of that money yet.
There are some disadvantages, he said, like the time a worker was arrested because he crossed the state line into New Jersey to make a delivery without getting permission from his parole officer. But the negatives are outweighed, Porat believes, by the desire of former prisoners to prove themselves through honest labor.
"They know they are not on the same level as anybody else, so they are trying harder," he said. "The problem is that there is a stereotype. Everybody thinks these people are dangerous. Everybody thinks these people are criminals. They made a mistake. If you don't give them an opportunity, these people are lost."
As a truck driver, Headley could make at least $12 an hour. He also has dreams of owning his own business and hopes to build enough capital to open a coffee shop someday.
"I can't go to jail for selling coffee beans," he said.

Features

These Fortune 100 employers have at least 350 openings each. What are they looking for in a new hire? More

It would be the world's second-biggest economy. See how big companies' sales stack up against GDP over the past decade. More