The CEO and the owner broke up. Now what?
The L.A. Dodgers owners' messy breakup highlights a common plight for family firms: A marital schism can wreak havoc on the business.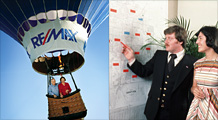 The founders of four breakout companies on how they built billion-dollar global brands like Costco and Re/Max from scratch.
NEW YORK (CNNMoney.com) -- The news that Los Angeles Dodgers owners Frank and Jamie McCourt are divorcing came with a bitter kick: Team chairman Frank's first move against his soon-to-be-ex was to fire her from her job as the Dodgers' chief executive.
Given that nearly 50% of all marriages end in divorce, the Dodgers organization isn't the only business threatened by husband-and-wife infighting. The National Federation of Independent Business estimates that 1.2 million small firms are run by married couples. Loss of marital love usually means loss of business:
Insurance company MassMutual says that 15% of its small business clients have been through a divorce -- and of that group, 44% said the split negatively affected their company.
"Many family-owned businesses are hard hit when divorce occurs," says Don Schwerzler, founder of the Family Business Institute in Atlanta. "In some cases, it can even mean the end of the business."
Most of the trouble stems from the emotional trials of dividing what is usually the couple's largest asset: The business. Typically, one party is required to buy out the other, but things become complicated when ex-spouses can't agree on how to move forward. As they plod through divorce proceedings, "decisions are made not so much on what's best for the business, but what's best for the family or family members," says Schwerzler.
As a result, the business suffers.
Take the San Diego Padres, whose owners John and Becky Moores filed for divorce last year. Although Becky eventually relinquished control of the franchise, John was forced to sell a third of his interest in the team to help settle divorce obligations. In the end, the Padres bore the brunt: To save money, payroll was slashed and costly superstars were traded for cheaper players. The team ended the season at the bottom of MLB standings and with fewer ticket sales. San Diego "is getting a fourth-rate baseball team," AP sportswriter Bernie Wison recently told NPR.
It's not just finances that take a hit. Distracted by court dates or emotional turmoil, owners often spend less time in the office running the company. Sometimes employees feel compelled to take sides, creating a toxic business environment. Then there's the tension elicited when the estranged couple is present in the office.
"Most business leaders consider themselves these steely characters who can separate things at home from work. That's BS," says Wayne Rivers, president of the Family Business Institute in Raleigh. "When you're going through something like a divorce, you can't help but have it affect your leadership and quality of work."
Joseph Carini and Aurelie Lang own an upscasle New York City carpet business together, Carini Lang. When they split up, the couple had to rethink every aspect of their business, starting with their working hours. They divided the workday into two shifts so they could avoid seeing each other.
"Sometimes there was overlap -- it'd get very tense," says Carini.
Disruptions of a management structure "can really erode businesses' core values," says Priscilla Cale, director of the family business program at the University of Connecticut. "Owners need to ask themselves, 'Are we able to offer the best service to our customers if what we're focusing on is this new management challenge?'"
Family business experts implore small companies to plan for divorce as they would any other disaster. Incorporating legal documents like buy-sell agreements, shareholder's agreements, and prenuptial agreements into business plans cuts down on the infighting caused by marital splits. But small firms usually don't consider such provisions until after divorce proceedings have started.
"I never thought I'd need it," says the CEO of an elevator car manufacturing firm, who asked not to be named. For nearly 15 years he ran the company for his father-in-law, even after divorcing the man's daughter -- who became an alcoholic -- and marrying another woman. The father-in-law had promised him a third of the company, but when the time came for the buyout, the father-in-law balked.
"It had to do with me having a second wife," the CEO says. "It became horrendous. He tried to sell the company out from under me."
After two years of uncomfortable negotiations, the father-in-law finally relented. Today, the CEO has reconsidered his position on divorce planning. Three of his daughters work in the family business, and before they got married, he insisted they sign prenuptials that ensure their stock can't be transferred to third parties.
"It was difficult to do, but I couldn't leave anything to chance," he says.
Supplanting love with business
Although it's rare, an estimated 2% of divorced couples remain business partners. While most family business experts don't recommend this -- "unless they're unusual people, it's not going to work," says Bernard Kliska, an associate at the Family Business Consulting Group in Marietta, Ga. -- there are folks who are able to put aside hard feelings for the sake of the business they built together.
Stacy Madison and Mark Andrus, founders of Stacy's Pita Chips, ran their company together for eight years after their divorce before selling to it to PepsiCo in 2006. Carini and Lang, the Manhattan carpet company owners, found that their complementary business skills and dedication to the firm they launched together eventually replaced the love they lost when their marriage hit the rocks.
Lang, who didn't want to give up the flexibility afforded by owning her own company, says their management skills actually improved as the two met with lawyers to draft their partnership agreement. "When we were married, our roles in the business were never clear," she says. "Once we sat down and drew up the partnership -- literally laying out each other's responsibilities -- it really freed us."
The same probably can't be said for Frank and Jamie McCourt, the Dodgers' owners. For them, a resolution is likely to take a long time.
"This divorce is going to be a marathon, not a sprint," says Steve Mindel, a family law attorney with Feinberg, Mindel, Brandt & Klein in Los Angeles. "With hundreds of dollars on the line, both sides will spend a fortune on lawyers, accountants, and private investigators to prove that their post-marital agreement is valid or invalid. The true winners in this case? The lawyers, on both sides."

To write a note to the editor about this article,
click here
.