GM's Saab deal falls through
Deal to sell niche Swedish brand to Koenigsegg Group, a maker of high-end sports cars, is called off.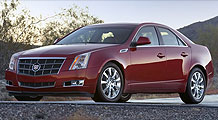 It turns out the day after Thanksgiving is a great day to shop for a car. Here a few deals that deserve special attention.
NEW YORK (CNNMoney.com) -- The deal to sell Saab to Swedish firm Koenigsegg Group AB has collapsed, General Motors announced Tuesday.
"We're obviously very disappointed with the decision to pull out of the Saab purchase," said GM CEO Fritz Henderson in a statement. "Given the sudden change in direction, we will take the next several days to assess the situation and will advise on the next steps next week."
GM spokesman Chris Preuss said the company's board already was set to meet next week and that a decision on what to do next with Saab would be on the agenda.
Christian von Koenigsegg, managing director of the small manufacturer of top-end sports cars said the financing was available to do the deal, but that the complexity of the deal made it impossible to bring it to a timely conclusion needed to turn Saab around.
"We have a great belief in Saab...their product range and what the deal promised," he told CNN International Tuesday. "The problem is we can still not see a date when the deal can be finalized."
He said Koenigsegg Group did not want to point fingers to any party for the collapse of the deal.
"Everybody wanted to make this deal, but the...time aspect were just too difficult," he said.
Koenigsegg had been talking to the Swedish National Debt Office about the government guarantee for the loan it needed to buy the unit. It also had recently announced a tentative deal with Beijing Automotive Industry Holdings to explore export opportunities for Saab to China.
The price of the deal had not been disclosed by either party. One published report estimated GM would get less than a $500 million. But Michelle Krebs, senior analyst for industry sales tracker Edmunds.com, said losing the deal could cost GM additional cash to shutdown dealerships and manufacturing facilities in Sweden if it is unable to find another buyer.
"This might not get much notice here, but they'll notice in Sweden," she said. "The big question is what will the Swedish government do now, whether they'll allow the plants there to shutdown."
GM took a total of $912 million in charges primarily related to a writedown in the value of Saab earlier this year, according to the company's most recent earnings report.
Saab, based in Trollhättan, Sweden, was one of the brands GM announced it would shed as part of its bankruptcy reorganization earlier this year.
It is in the process of shutting down its Pontiac brand and selling the Hummer unit to a Chinese manufacturer. It had also sought to sell its Saturn brand to auto dealer Penske Automotive Group (PAG, Fortune 500), but when that deal fell through it moved to start shutting down Saturn.
"In the overall scope of the thing, Saab's a little deal. But it's a second setback, and they don't need another setback," said Tom Libby, president of the Society of Automotive Analysts.
GM recently decided to retain ownership of Opel, its primary European brand, rather than to sell a majority stake in that unit to a group led by Canadian auto parts maker Magna International (MGA).
GM said the decision to hang onto Opel was due to an improving business environment over the past few months and the importance of Opel and to GM's global strategy. It said it would seek help from European governments with the €3 billion, or $4.5 billion, in estimated restructure costs for the Opel unit.
The decision to hang onto Opel could affect its decision on whether to retain or close Saab if another buyer can't be found. Krebs said that Opel already had excess manufacturing capacity in Europe and trying to fold Saab into GM's European operations going forward will only add to the expense and difficulty of that reorganization.
GM might be able to find another buyer for Saab, Krebs said. Automakers in developing markets such as China and India have been buying western brands being shed by cash strapped automakers.
Besides the planned sale of Hummer to Chinese manufacturer, Ford Motor (F, Fortune 500) is in talks to finalize the sale of its Swedish auto unit Volvo to Chinese automaker Geely. Krebs said there had also been talks about merging Volvo and Saab together, although she said that may be more difficult with this sale.
Last year Ford sold the Jaguar and Land Rover brands to Indian automaker Tata, a deal that netted Ford about $1.7 billion, or only a third of the price it had paid for the two luxury automakers.
Saab is also a high-end niche player in the U.S. market. With doubts about its future, its market presence here has fallen to almost insignificant levels. But nearly 80% of Saab sales are outside the United States.
It sold only 7,441 vehicles in the United States through the first 10 months of this year, the least of any GM brand and down 61% from a year ago.

Features

These Fortune 100 employers have at least 350 openings each. What are they looking for in a new hire? More

It would be the world's second-biggest economy. See how big companies' sales stack up against GDP over the past decade. More