A PayPal for politics
A startup helps political fundraisers get their online acts together.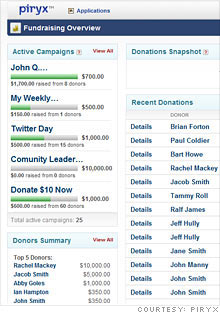 (Fortune Small Business) -- When Rep. Joe Wilson of South Carolina made his infamous "You lie!" outburst during the president's healthcare address to Congress in September, he wasn't the only one stepping into the spotlight. The next day, an Austin startup called Piryx set up a Web site to facilitate donations to Wilson.
The resulting flood of attention garnered Wilson more than $1 million in donations, matching the amount raised by his opponent. It also inspired a malicious hacker attack on Piryx's servers that disabled them for several hours. "We couldn't have asked for better publicity," chuckles CEO Tom Serres, 27.
Nonpartisan Piryx serves candidates running for everything from local judge to U.S. senator, along with political action committees of every stripe. The Piryx platform features a Quicken-style app that tracks donations and reports them to the Federal Elections Commission -- meaning, in effect, that anyone can use it to run for office. Piryx also offers a system similar to eBay's (EBAY, Fortune 500) PayPal that allows donors to send money directly to a campaign's account, and simple tools for setting up Web pages and Facebook groups around campaign issues.
Serres estimates that some 2 million political events, including campaigns and ballot initiatives, take place annually in the U.S., bringing in about $30 billion in contributions and government funding each year. He says Piryx will collect more than $1.5 million in 2009 from membership fees paid by campaigns and from the roughly 4% cut the startup takes from contributions.
Piryx is also tapping the nonprofit and small business markets. Around the time of its September 2009 launch, Piryx partnered with singer Jon Bon Jovi to help his poverty-fighting Soul Foundation connect with donors.
But the political arena seems to offer Piryx its biggest growth opportunity -- especially in the age of President Obama, whose campaign proved the value of a strong online organization.
"The Piryx tools make politics more accessible," says Mark McKinnon, a veteran political consultant who ran the 2000 and 2004 national advertising campaigns for President George W. Bush. "It flattens the competition among candidates, so people with less money can get their ideas in front of voters."
Piryx's early scores -- such as the $20,000 it made in the first month of hosting Wilson's site -- have convinced the company's chief that his timing is right. "If I'd launched four years ago, we would have failed," Serres says. "The political industry is going through what corporate America experienced in the 1990s - discovering the Internet's power."
His next job: beefing up security to make sure sites like Wilson's can't be hit again.

To write a note to the editor about this article,
click here
.