Bonds rally as credit fears sap confidence
Prices for U.S. Treasurys climb as investors seek safe-haven assets amid Dubai World debt concerns.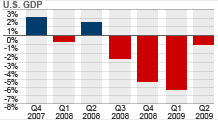 The G-20's six largest economies took a big hit during the global recession in the past year and a half. Challenges remain but most appear on the path to recovery.
NEW YORK (CNNMoney.com) -- Treasurys jumped Friday as investors flocked to the perceived safety of U.S. debt amid concerns about Dubai World's credit problems.
"There's a global flight to fixed income," said Dan Greenhaus, chief economic and bond strategist at Miller, Tabak & Co in New York. "It's the end of the year and people are concerned about protecting their gains."
The rally comes two days after Dubai World, the finance arm of Dubai, requested a postponement of payments on nearly $60 billion in debt. The move revived concerns about the global banking system and caused investors to shy away from more risky assets such as stocks.

Dubai, which is one of seven emirates that make up the United Arab Emirates, borrowed billions over the last several years to fuel a construction boom.
But the emirate was hit hard by the credit crunch and investors are concerned about the possible fallout if Dubai World is forced to liquidate assets at fire-sale prices. That could put many big British banks, and possibly some U.S. banks, at risk.
"It's reminding people that the emerging market play is not all in one direction and that there are risks in the sector," Greenhaus said.
Stocks plunged in early trading, with the Dow Jones industrial average dropping more than 200 points, as investors began a holiday-shortened trading day in New York. All U.S. markets were closed Thursday for the Thanksgiving holiday.
Asian markets closed sharply lower, with Japan's Nikkei closing down 3.2% and the Heng Seng in Hong Kong tumbling nearly 5%. European markets recovered from a sharp selloff in the previous session, with the CAC-40 up more than 1%.
Commodities markets were also pummeled by the Dubai World news. Oil prices sank more than 2% while gold prices fell by $13 per ounce.
In the currency markets, the pound and euro bore the brunt of the market's aversion to risk. The UK currency was down 0.6% and the 16-nation unit slid 0.7%.
Treasury prices. The benchmark 10-year note was up 28/32 to 101 15/32 and its yield fell to 3.21% from 3.28% on Wednesday. Bond prices and yields move in opposite directions.
The 2-year note rose 3/32 to 100 5/32 and its yield sank to 0.7%.
The 30-year bond advanced 22/32 to 102 28/32. Its yield was 4.21%.

Features

These Fortune 100 employers have at least 350 openings each. What are they looking for in a new hire? More

It would be the world's second-biggest economy. See how big companies' sales stack up against GDP over the past decade. More