Stocks slip on Dubai debt woes
Worries about Dubai World's reluctance to pay off its debt rattle markets worldwide.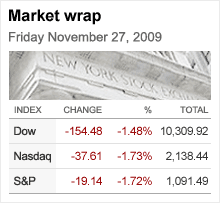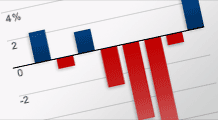 The recovery from the Great Recession has likely started. But many economists are worried about falling into another downturn. Here's what has them concerned.
NEW YORK (CNNMoney.com) -- Stocks tumbled Friday afternoon as fears about the fallout from Dubai's debt problems rattled Wall Street in a thinly-traded half-day session following Thanksgiving.
The Dow Jones industrial average (INDU) fell 155 points, or 1.5%, after closing Wednesday at a 13-month high. The Dow had lost as much as 233 points in the morning.
The S&P 500 (SPX) lost 19 points or 1.7% after closing Wednesday at a 13-month high.
The Nasdaq composite (COMP) lost 37 points, or 1.7% after ending Wednesday just short of a 13-month high.
All financial markets were closed Thursday for Thanksgiving, and the stock market closed at 1 p.m. Friday. Trading volume was very light with many Wall Street pros taking a five-day weekend.
"The veneer of Black Friday has been eclipsed by Dubai on a light volume day," said Karl Mills, chief investment officer at Jurika, Mills & Keifer. "It will probably work itself out and is probably a containable fire at this point, but it also makes people wonder what else is out there."
Middle East fallout: The Dubai government shocked global investors late Wednesday by saying it needed at least a six-month deferment on the $60 billion in debt owed by Dubai World and Nakheel.
Dubai World is the government-owned holding company for Dubai, the most populous of the seven Emirates that make up the United Arab Emirates. Nakheel is its real estate arm.
Dubai's construction boom has helped transform the Emirate into one of the world's financial centers, as well as a tourist hot spot. But Dubai has not been immune to the real estate collapse that has hit the rest of the world, with values plummeting even as pricey projects continue to get underway.
"It's an unexpected event and it reminds us that there is still a lot of debt and underlying problems out there," said Mills.
Black Friday: Initial reports suggest that although Black Friday appears to be milder than in recent years, consumers are indeed out in droves to take advantage of discounts on toys, clothes, games and entertainment.
Black Friday, the first shopping day of the critical holiday retail period, is seen as a key barometer of how the next six weeks will play out. In a year fraught with rising joblessness - the unemployment rate is at a 26-year high of 10.2% - Black Friday is also being dissected for clues on the health of the consumer.
Retailers including Toys R Us, which opened its doors at midnight on Thanksgiving, were seeing shoppers take advantage of "doorbuster" deals. Wal-Mart Stores (WMT, Fortune 500), Best Buy (BBY, Fortune 500) and Sears were among the other retailers benefiting from a consumer that is strained, but willing to take advantage of substantial price cuts on key items. (For details, click here.)
World markets: European markets erased early losses on Dubai World to turn higher late in the session. London's FTSE 100, Germany's DAX and France's CAC 40 all gained at least 1.3%. Asian markets tumbled, with the Hong Kong Hang Seng losing 4.8%.
Currency and commodities: The dollar rallied versus the euro and the yen, following the Dubai news. The greenback's rally pummeled dollar-traded oil and gold prices.
COMEX gold for December delivery fell $13 to $1175 after ending Wednesday's session at a record $1,187 an ounce.
U.S. light crude oil for January delivery fell $1.91 to $76.05 a barrel on the New York Mercantile Exchange.
Bonds: Treasury prices rose in a classic flight-to-quality move amid the weakness in stocks. The rally lowered the yield on the 10-year note to 3.20% from 3.27% Wednesday. Treasury prices and yields move in opposite directions.
Market breadth was positive and volume was light. On the New York Stock Exchange, winners topped losers six to one on volume of 655 million shares. On the Nasdaq, decliners beat advancers four to one on volume of 970 million shares.

Features

These Fortune 100 employers have at least 350 openings each. What are they looking for in a new hire? More

It would be the world's second-biggest economy. See how big companies' sales stack up against GDP over the past decade. More