Where are they now?
One year on, we check back with last year's Next Little Thing picks.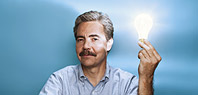 Wireless electricity, invisible speakers, a mind-reading headset -- see what America's entrepreneurs are creating for release in 2010.
(Fortune Small Business) -- Flat World Knowledge: In March online textbook provider Flat World Knowledge raised $8 million in venture capital. That's a good sign, says co-founder Eric Frank: "Despite the economic doom and gloom, good ideas still get funding."
Flat World's user base has exploded from 1,000 students at 30 colleges to 40,000 students at 400 colleges in the past year. The company is also expanding its textbook selection beyond business and economics to subjects such as psychology and sociology. Frank aims to have 50 new titles in development by the summer.
Terrafugia: Carl Dietrich's flying car, the Transition, took to the skies for the first time in March. It landed safely but revealed new engineering problems: "There are things to improve on," says a diplomatic Dietrich. A new prototype is expected to be completed by the end of 2010.
At least Dietrich's insurance woes have been solved. Massachusetts's Division of Insurance is allowing his creation to be covered by aviation insurance even while being driven on land. And preorders have increased from $8 million in 2008 to $13.8 million in 2009. Dietrich now expects the first Transitions to be delivered in 2011.
Ear-A-Round: The GPS headset for cows is stuck in the mud.
Co-inventor Dean Anderson says he needs 27 units for further testing but has received only seven from MIT. In 2010, Anderson is hoping to find hardy investors or, better yet, ink a research deal with his employer, the U.S. Department of Agriculture.
"After 32 years of working on this, I can taste the finished product," he says. "My wife thinks I should've given up a long time ago, but I guess I'm just thickheaded."

To write a note to the editor about this article,
click here
.