How an indie filmmaker cut out the middleman
To get her documentary Ten9Eight into theaters, Mary Mazzio made a pioneering deal with movie chain AMC.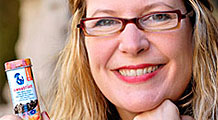 After winning competitions with their business plans, these 7 ventures turned their paper visions into thriving companies.
(Fortune Small Business) -- A dozen inner-city teens face off during a business plan competition in Ten9Eight: Shoot for the Moon, the latest documentary from filmmaker Mary Mazzio.
From the high school athlete who creates photochromatic face shields for football players to the 15-year-old animal lover who decides to sell vegetarian dog treats after learning that red meat may cause canine cancer, these budding business owners are both clever and heartbreakingly earnest.
The film's boldest entrepreneurial moves, however, happened off camera, where filmmaker Mazzio explored unorthodox ways to bring her movie to the masses.
Traditionally, film distribution companies have acted as Hollywood's middlemen, matching up new movies with theaters. But after a short-lived documentary boom following the 2004 release of Michael Moore's Fahrenheit 9/11, the nonfiction film market slumped. Many distributors are awash in red ink; others have gone out of business.
So Mazzio decided to try a different strategy. She independently shopped Ten9Eight to AMC, the second largest movie chain in North America. And in October they inked a deal: Ten9Eight opened Nov. 12 at 15 of the chain's biggest theaters, in cities including Atlanta, Chicago, Los Angeles, Miami, New York City and Washington, D.C.
"The film is excellent," says Robert J. Lenihan, president of programming for AMC. "We think it conveys a positive message that will be well received by our audience."
Lenihan says AMC's standalone deal with Mazzio is a first for the chain -- and it may be a first for Hollywood too.
"Every filmmaker is complaining about the distribution bottleneck," Mazzio says. "I decided if I couldn't get through it, I'd go around it."
AMC will be watching box-office receipts for Ten9Eight. If the film attracts a big audience, the chain will consider showing it in more theaters.
Ten9Eight is the fourth major movie for Mazzio, whose production company, 50 Eggs, is based in Wellesley, Mass. (Her pre-film career also required tenacity: Mazzio rowed for the U.S. in the 1992 Olympic Games.) She's probably best known for her 2004 documentary Lemonade Stories, which chronicles the impact mothers of successful entrepreneurs had on their children, including Virgin Atlantic's Richard Branson, Home Depot's (HD, Fortune 500) Arthur Blank and Def Jam's Russell Simmons.

To write a note to the editor about this article,
click here
.