Saab hangs on... for now
GM delays a decision on the Swedish brand's ultimate fate until the end of the month.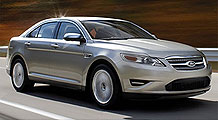 Just 27 vehicles this year meet the Insurance Institute for Highway Safety's new, tougher standards.
Find your next Car

NEW YORK (CNNMoney.com) -- General Motors has put off a decision on what to do with its struggling Saab brand until the end of December, the company said Tuesday.
While many wonder if the Swedish auto brand will continue to exist, one thing that's clear: Saab will no longer be part of GM, as it has been since 1989.
GM announced last week that a proposed deal to sell Saab to Swedish supercar manufacturer Koenigsegg Group AB had fallen through.
Christian von Koenigsegg, managing Koenigsegg said the financing was available to do the deal, but that the complexity of the transaction made it impossible to bring it to a timely conclusion needed to turn Saab around.
"We have a great belief in Saab...their product range and what the deal promised," he told CNN International last Tuesday. "The problem is we can still not see a date when the deal can be finalized."
GM is in the process of shutting down its Pontiac brand and selling the Hummer unit to a Chinese manufacturer. It had also sought to sell its Saturn brand to auto dealer Penske Automotive Group, but when that deal fell through it began shutting down Saturn.
Saab is a high-end niche player in the U.S. market. With doubts about its future, its market presence here has fallen to almost insignificant levels. But nearly 80% of Saab sales are outside the United States.
It sold only 7,812 vehicles in the United States through the first 11 months of this year, the least of any GM brand and down 61% from a year ago.
Keeping Opel
GM recently decided to retain ownership of Opel, its primary European brand, rather than to sell a majority stake in that unit to a group led by Canadian auto parts maker Magna International.
GM said the decision to hang onto Opel was due to an improving business environment over the past few months and the importance of Opel and to GM's global strategy. It said it would seek help from European governments with the €3 billion, or $4.5 billion, in estimated restructure costs for the Opel unit.
The decision to hang onto Opel could affect its decision on whether to retain or close Saab if another buyer can't be found. Krebs said that Opel already had excess manufacturing capacity in Europe and trying to fold Saab into GM's European operations going forward will only add to the expense and difficulty of that reorganization.
Ford Motor is in talks to finalize the sale of its own Swedish auto unit. Volvo, to Chinese automaker Geely.

Features

These Fortune 100 employers have at least 350 openings each. What are they looking for in a new hire? More

It would be the world's second-biggest economy. See how big companies' sales stack up against GDP over the past decade. More