Why Main Street isn't hiring
Small business owners are in the spotlight this week in Washington as policymakers confront the problem of widespread job losses.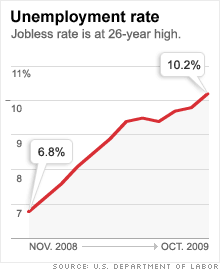 Photos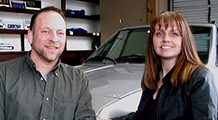 Millions of job openings!
NEW YORK (CNNMoney.com) -- With unemployment at its highest rate in a generation, Washington's policymakers are zooming in this week on a thorny part of the problem: Starved for credit and sales, small companies aren't hiring.
Businesses with fewer than 50 employees cut another 68,000 workers in November, according to a report released Wednesday by payroll processor ADP (ADP, Fortune 500). Small companies have collectively shed 2 million workers over the last 12 months. That's a sizeable chunk of the 5.3 million jobs lost this year, according to ADP's estimates.
The rate of job cuts has slowed, but economists don't anticipate a pickup in hiring any time soon. Small companies -- which employ about half of America's non-government workers and generate the majority of new jobs -- are still reeling from the recession's effects.
Huntington Bank in Columbus, one of the country's most active small business lenders, recently polled 200 Midwestern business owners about their hiring plans. Almost a quarter -- 23% -- said they expect to begin hiring workers again in the second quarter of next year, while 21% said they won't increase their staffing until 2011. Here's the really scary number: 15% don't think they'll ever return to their previous staff levels.
That's a problem drawing attention from top government officials.
President Obama will host a jobs forum Thursday at the White House with business leaders and financial experts, including several small business owners. Meanwhile, the U.S. Senate's Democratic Policy Committee held a hearing Wednesday in Washington on the challenges small business owners face trying to secure bank loans. Three entrepreneurs testified about their grim experiences.
Veteran Chicago restaurateur Ivan Matsunaga needs a $300,000 loan to finance a renovation of his flagship pizza restaurant into a higher-end eatery. The revamp is required for his lease renewal, but it will also create job opportunities: Matsunaga estimates that he'll need five additional staffers to run the updated restaurant.
Three banks turned down his loan request -- including a community bank Matsunaga personally invested in at its launch three years ago.
"How perplexing is it that they would not reciprocate? What type of banking environment exists where they currently have $100,000 of my money and yet they won't give me a loan?," Matsunaga asked at the hearing. "If my bank were to approve my loan today, I, for one, would create jobs immediately."
Big banks have shaved more than $10 billion from their small business lending totals over the past six months, which drew sharp criticism from Senators at Wednesday's hearing. "I know that my situation is not unique," Matsunaga said. "I have had numerous discussions with my peers who are frustrated by these same issues."
From Main Street to the White House
Several small business owners will be sharing their perspective on the hiring situation at the White House's jobs forum on Thursday.
Rose Wang is the founder and CEO of Binary Group, an IT consultancy in Arlington, Va. This past year has been among the hardest in the company's 13-year history: Wang cut her staff by around 10%, to 120 people.
Wang is a member of the lobbying group Women in Public Policy, and got word from a WIPP coordinator that the White House would be contacting her. But she was still startled when she got the invitation.
"Last week, I got this e-mail out of the sky," Wang said. "I was shocked. I was surprised. I thought it was spam at first." Wang isn't sure why she was singled out to participate in the forum, but she's pleased at the opportunity.
"As a small business, competing with the large companies is really, really hard, and it is getting tougher," she said. "Some of the federal procurement policies need to be looked at more carefully. Even though they are well-intentioned, they really have unintended consequences that are negative for small businesses."
Another small business executive headed to the White House has an unusual story to tell: His company is hiring.
David Ickert is the vice president of finance at Air Tractor. Based in rural North Texas, the 27-year-old company manufacturers agricultural airplanes like crop dusters and forest-fire fighters. Over the last few years, Air Tractor has added 35 employees to its workforce, which now numbers around 200.
The best thing the government can do to boost business at Air Tractor is relax export restrictions, Ickert said. His company sells some 90 planes a year, at $400,000 and $1.2 million a pop, and about 45% of those planes are exported to the likes of Brazil, Argentina, Spain and, recently, China.
Expanding job opportunities for American workers by increasing the country's global trade is one of the topics on Thursday's agenda. Other areas policymakers are eyeing for job growth include green energy and infrastructure investment.
The small business credit crunch will also be in the spotlight at the White House summit. Woody Hall, the CEO of Diversapack, plans to speak about the trouble he's had obtaining financing to open a new plant for his packaging manufacturing company.
With more than 700 employees and annual revenue of $160 million, Diversapack is pushing the limits of what's considered "small," but banks are still shying away. Lenders want to see recent profitability before they'll gamble on a loan.
"If you think about what has happened for the past 18 to 24 months, how many companies are you going to see that have strong balance sheets over the past two years?" Hall said. "Those banking models are not appropriate for today's times; they are outdated."
Many ideas, but no action yet
Small businesses owners have been bringing these issues to Washington's attention for months.
Treasury Secretary Timothy Geithner and Small Business Administrator Karen Mills met two weeks ago with business owners and lenders to brainstorm solutions for the Main Street credit crunch. As Geithner summed up the problem: "No jobs without growth. No growth without credit."
President Obama will have another chance to hear from business owners directly about their stalled growth. On Friday, he'll travel to Allentown, Pa., to kick off what's a "White House to Main Street" tour.
The President will visit small towns across the U.S. over the next few months in what the White House is calling "an effort to spend some time out of Washington and take the temperature on what Americans are experiencing during these challenging economic times."
Wang is hopefully that Thursday's jobs summit will help motivate policymakers to take action.
The forum "shows the administration has that commitment to be very inclusive," she said. "Ultimately, it is their decision what to do, but at least they take the time to listen, which is huge."

To write a note to the editor about this article,
click here
.