Obama: Use TARP for job creation
In a speech on Tuesday, the president is expected to say he's backing a House plan to spend leftover TARP funds on stimulus spending.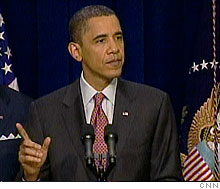 Millions of job openings!
WASHINGTON (CNNMoney.com) -- President Obama is expected to announce Tuesday that he wants Congress to redirect a certain portion of leftover Wall Street bailout funds toward job creation measures, White House officials told CNN.
That would come on the heels of news Monday that the White House was reducing the expected loss from the bailout by $200 billion. Potential job-creation ideas include building roads and bridges, "weatherizing" homes to reduce energy bills and lending to small businesses.
The idea of tapping the Troubled Asset Relief Program has been floating around Congress for several weeks. But in a speech Tuesday at the Brookings Institution, Obama is expected to up the ante. The White House did not specify how much of the TARP funds the president planned to call for. (See correction below.)
Democratic House leaders have been talking about spending up to $70 billion of TARP to help pay for infrastructure projects to create jobs, according to senior Democratic House aides.
Other ideas explored: Using TARP to help make loans to small businesses and to assist states with retaining firefighters and police officers.
But the centerpiece would be a $70 billion program for infrastructure needs, said Rep. Chris Van Hollen, D-Md., who chairs the Democratic Congressional Campaign Committee.
"If you look around the country there's a huge demand for investment in infrastructure," Van Hollen said. "These funds can be used for projects that are very much needed and can put people to work right away."
House and Senate leaders have also been talking about spending $110 billion to extend unemployment benefits, Cobra health care benefits and food stamps, although that wouldn't be paid for with TARP funds, a House aide confirmed.
The tentative plan is for the House to pass both initiatives this month, tacking them on to an important spending bill. The Senate could take up the plans in January.
While many Democrats generally support the the idea of using TARP dollars for economic stimulus, Republicans prefer allowing unused bailout money to go untouched - in effect, reducing the federal deficit.
Sen. Jon Kyl, R-Ariz., said Sunday on CNN's State of the Union that while he's open to the idea of more job creation programs, he'd rather pay for those programs with "unspent stimulus money."
"The TARP money that's returned to the Treasury is supposed to be used for retiring our debt, or not allowing our debt to continue to rise, as it has been," Kyle said. "I think we would like to see that - the TARP money applied to the debt and use this unspent stimulus money to more directly create jobs."
TARP programs could, technically, sunset at the end of this year, but Treasury officials have given every indication they intend to renew TARP programs for one last year, despite howls from conservative Republicans.
During the White House briefing on Monday, spokesman Robert Gibbs denied the suggestion that using TARP dollars on infrastructure represented a "second stimulus" package.
He said that they're looking at ways to help small businesses get loans and ways to assist the private sector "in an atmosphere that leads to additional hiring and jobs."
"What message does that send to Main Street? Help is on the way. It sends the message that your economic vitality is just as important as anybody that lives or works or breathes on Wall Street," Gibbs said.
An earlier version of this story incorrectly stated that the White House said Obama on Tuesday would call for $200 billion in TARP funds to create jobs. The White House never specified the amount.
-- CNN White House Correspondent Suzanne Malveaux and CNN's Deirdre Walsh contributed to this report.

Features

These Fortune 100 employers have at least 350 openings each. What are they looking for in a new hire? More

It would be the world's second-biggest economy. See how big companies' sales stack up against GDP over the past decade. More