GM may speed up repayment to U.S.
GM CEO Ed Whitacre says automaker considering repaying its $6.7 billion government loan in one lump sum, rather than quarterly payments.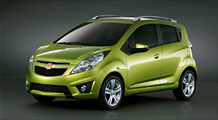 General Motors recently showed reporters and select members of the public what it plans to build over the next two years.
NEW YORK (CNNMoney.com) -- General Motors is considering repaying all of its $6.7 billion in government loans in one lump sum, rather than through quarterly payments as currently planned, Chief Executive Ed Whitacre told journalists during an online press briefing Tuesday.
The loans are only a small fraction of the roughly $50 billion of direct support the automaker received from the U.S. Treasury as the government worked to keep the company from going out of business over the last 12 months.
Treasury received 61% of GM's common shares in return for most of the money, as well as $2.1 billion in preferred shares in order not to burden the company with too much debt as it came out of bankruptcy.
On Nov. 16, the company announced plans to start paying back the $6.7 billion loan it still owes Treasury, starting with a $1 billion payment later in December. But even though GM announced a $1.2 billion quarterly loss on that same day -- its first quarter since emerging from bankruptcy -- the company has the full $6.7 billion in a $17.4 billion escrow account from which it will make those payments if conditions do not worsen and force it to draw down that cash.
Whitacre, former AT&T chairman and CEO, was named the non-executive chairman of GM in July as it emerged from bankruptcy. He assumed the CEO post on Dec. 1, when Fritz Henderson resigned as CEO at a meeting of the GM board.
CEO plays it cool. Whitacre didn't elaborate on the loan payment plans during the online chat, other than to answer a question about why GM isn't making the full payment by typing, "You have a good idea. We've thought of it too...we'll be looking at that possibility."
It was the last question that Whitacre took during the 38-minute chat. Unlike a typical press conference, Whitacre and his staff were able to choose which questions he would answer. Whitacre did not take any questions on the rift between the GM board and Henderson that led to his resignation, and limited questions about a shakeup of top GM management announced Friday.
He said the company is close to a decision on a new chief financial officer and that he's not looking to name a president or chief operating officer to share the day-to-day duties of running GM.
Whitacre admitted he wasn't "comfortable" yet answering questions directly from the press but promised "we'll talk soon."
Whitacre's answers were often very sparse. He answered one series of three questions "Yes, yes and no." And in response to the question "Fritz Henderson had only about 8 months as CEO before he left. How long do the newly appointed execs have to show results before they are replaced?" Whitacre trotted out the computerized smiley face to answer "Not long :)"
The former telecom executive said that he is a car fan and was a GM customer even before he joined the board, owning a 2008 Tahoe as well as a 2005 Chevy Avalanche and a 2005 GMC Yukon XL before joining the board. Since he joined the company he got a Cadillac CTS-V.
"Too many vehicles for one guy, huh?" he said.
Big plans, few details. Some of his answers seemed very broad, such as when asked about the company's prospects in the key Asian markets he responded "The Asian market is big and growing...it's diverse and big for GM. We're doing well there and will continue to do so."
Other answers appeared to be somewhat flip. Asked about market share targets for the company he responded "As much as we can get."
But he didn't say how far GM would go to preserve market share, whether it would raise cash incentive offers to customers and dealers, or hike sales to fleet customers, such as rental car companies -- moves that in the past hurt the value of used GM vehicles and cut into profits, or added to losses, at the company.
Earlier in the day in a more traditional conference call, one of the executives recently promoted by Whitacre, Susan Docherty, vice president of sales, service and marketing, admitted that she is not proud that GM has outspent rivals on cash incentives to customers, and vowed to hold the line on such spending.
"The old GM tended to buy market share. We're going to earn our market share," she said.

Features

These Fortune 100 employers have at least 350 openings each. What are they looking for in a new hire? More

It would be the world's second-biggest economy. See how big companies' sales stack up against GDP over the past decade. More