Congress demands banks do more on mortgages
Lawmakers express frustration with lackluster progress in the administration's plan to slow foreclosures.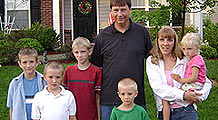 Homeowners in trouble are having mixed results applying for President Obama's foreclosure prevention plan. CNNMoney.com readers tell us their tribulations and triumphs trying to get their loans modified or refinanced.
WASHINGTON (CNN) -- Executives for mortgage companies and government officials faced an angry congressional committee Tuesday concerning some of the problems with the Obama administration's mortgage-aid program aimed at avoiding foreclosures.
Many of the complaints lodged by members of the House Financial Services Committee focused on the slow pace of converting trial mortgage modifications into permanent ones under the program.
While over 680,000 borrowers now have temporary adjustments that last for several months, only a small fraction of those people have been offered new permanent mortgages.
"We are terribly frustrated," committee Chairman Rep. Barney Frank, D-Mass., told the hearing in a statement that was echoed by others.
"Why can't we do so something ... I am frustrated," Rep. Emanuel Cleaver, D-Miss., said.
In an attempt to dramatically raise the number of homeowners whose mortgages are permanently revised, the government last week announced new steps to pressure mortgage companies -- including sending Treasury Department and Fannie Mae personnel to the largest seven mortgage servicers to personally make sure applications are being processed efficiently -- giving the companies specific targets and publishing more detailed information about the institutions' conversion rates.
"I think the banks have a long way to go to get up to their full potential," assistant Treasury Secretary Herb Allison told the committee, adding that the institutions recently made progress towards more conversions. "Lights need to be shined on each of these banks."
Those eligible for the $75 billion Making Home Affordable program are people who occupy the home as their primary residence, have a loan balance less than $729,750 and have a mortgage payment greater than 31% of their gross monthly income.
Once the participants are deemed eligible, they enter into the trial modification phase in which their payments are lowered and under which the customer has to make at least three payments. If everything goes well in that preliminary stage and their financial situation hasn't changed, their applications are evaluated for the permanent modification.
A preliminary report showed that as of September 1, only 1,711 -- or 1.26% -- of all trial adjustments were made permanent after three months, according to the Congressional Oversight Panel, which is monitoring the government bailout programs.
Some members of Congress said more pressure needs to be applied.
"The banks thumb their noses at all of us," Rep. Maxine Waters, D-Calif., said.
In an effort to push the companies to put more eligible homeowners into permanent modifications, Treasury Department officials on Monday met in Washington with the 17 mortgage providers, including Bank of America (BAC, Fortune 500), JPMorgan Chase (JPM, Fortune 500), Morgan Stanley (MS, Fortune 500), CitiMortgage and Wells Fargo (WFC, Fortune 500).
"Permanent modification numbers will be released on Thursday, so servicers are on notice that they must ramp up and provide sustained relief to struggling homeowners now," assistant Treasury Secretary Michael Barr said in a statement.
Failure to send in needed paperwork is a major problem that both the banks and the government are trying to solve. A Treasury Department official has said only a third of those homeowners who made at least three trial payments have submitted all necessary documents.
Officials of two companies who testified Tuesday said they want the program to work, have added staff to help improve processing and are increasing outreach to customers.
"We fully share Treasury's commitment to convert successful trial modifications to permanent as quickly as possible," Jack Schakett of Bank of America told the committee.
"In support of that commitment, Bank of America is focusing on assisting customers in providing all of the necessary documents for underwriting. Otherwise homeowners are at risk of missing this opportunity -- an outcome none of us wants."
For example, Schakett said, last week Bank of America sent out by overnight mail another request to 50,000 people who face a December 31 deadline, and who have failed to submit key documents.
Also at the hearing, Molly Sheehan, senior vice president for JPMorgan Chase, listed some of the efforts it has undertaken for the 51% of borrowers who are paying but who have not submitted all of their documents: "A coordinated program to call our customers 36 times, reach out by mail 15 times, and make at least two home visits if necessary to help complete documents, ordering key documents earlier in the process so they are ready when the borrower's documents come in to expedite underwriting ... assigning specific pools of accounts to loan modification counselors to provide continuity in dealing with the customer."

Features

These Fortune 100 employers have at least 350 openings each. What are they looking for in a new hire? More

It would be the world's second-biggest economy. See how big companies' sales stack up against GDP over the past decade. More