The new AOL faces a tough fight
The former dial-up giant is being split off from Time Warner in its latest attempt at a comeback. This time, it may work.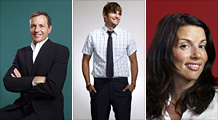 These tech-world luminaries - photographed during our recent Brainstorm Tech conference - aren't just changing the game; they've defined it. Photographs by Robyn Twomey.
NEW YORK (CNNMoney.com) -- AOL begins a new chapter Thursday, a day after it completes its spinoff from one of the worst mergers of all time. The question on everyone's mind is: What will the newly single AOL look like?
The last time the former Internet powerhouse was flying solo, it was worth more than $100 billion, with its stock breaking past $100 per share. But that was before 2001, when it bought CNNMoney and Fortune parent Time Warner (TWX, Fortune 500) for $111 billion.
Today, the company is worth just a little more than $3 billion and its shares will start trading in the $25 range Thursday morning. In the first nine months of 2009, AOL brought in just $765 million of profit on $2.4 billion of revenue, down 33% and 23% respectively from the first nine months of the previous year.
Unlike in 2001, AOL is playing a distant second (more like fourth) fiddle to competitors Google (GOOG, Fortune 500), Yahoo (YHOO, Fortune 500) and Microsoft (MSFT, Fortune 500), who dominate Internet traffic and advertising. AOL will emerge as a leaner company after it separates from Time Warner, with plans to lay off one third of its staff -- 2,300 employees -- by the end of the year.
Assets are still attractive. Many experts think AOL has some fight left.
With former Google advertising chief Tim Armstrong at the helm, analysts say the company is in good hands, and many think that AOL has a set of successful assets that it can build on. It won't be able to "out-Google" Google, but it may be able to control some corners of the Internet.
"AOL needs to find its niche in the reconfigured Internet landscape," said Ray Valdes, analyst with Gartner. "It's just not quite clear what those viable niches are."
AOL has an attractive content business, including some popular sites that most users likely didn't even know belonged to the company. The leading gadget blog Engadget.com and social networking site Bebo.com are both AOL properties that have loyal fan bases and have made AOL the fourth most-visited online media network in the country, according to data tracker comScore.
Celebrity gossip news site TMZ.com, currently owned by AOL, will will stay with Time Warner after the split. (See correction below)
The company also owns Advertising.com, a display advertising network that the Internet services company bought in 2004. That acquisition has worked out very well for AOL, since comScore reported AOL now has the largest advertising reach in the country, putting it just ahead of Yahoo and Google by that measure.
But AOL's legacy businesses are drying up. Its dial-up customers number a mere 6 million, less than half of what it had just three years ago. AOL Instant Messenger (AIM) still has a strong user base, but the number of people using it has declined as similar services on Gmail and Facebook have gained in popularity.
Ultimately, AOL needs to pick a lane. Is it an Internet portal? A content company supported by advertising? Or something altogether different?
"They're either going to decide that they're a media company and produce more exclusive content or they'll try to drive people through aol.com and be something for everybody," said Todd Dagres, general partner of Spark Capital, a Boston-based venture capital firm focused on media and technology. "But it would be folly for them to aggregate material and drive people to aol.com. They should find out what they do best and go after that."
Correction: An earlier version of this story insinuated that TMZ would remain with AOL after the spinoff from Time Warner. TMZ will become part of Warner Bros., a division of Time Warner.

Features

These Fortune 100 employers have at least 350 openings each. What are they looking for in a new hire? More

It would be the world's second-biggest economy. See how big companies' sales stack up against GDP over the past decade. More