Chrysler, GM dealers ready to fight for resurrection
The auto giants plan to field appeals from nearly 2,000 dealerships they shuttered. They're going to get an earful.
Photos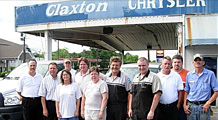 NEW YORK (CNNMoney.com) -- As Chrysler and General Motors get ready to sit down and talk with owners of some of the nearly 2,000 dealerships given death sentences, dealers are rolling up their sleeves and preparing to fight for their businesses' lives.
"I was very proud -- very proud -- of what I sold and what I did for a living," said Andrew Reixinger, the owner of Barry's Auto Center in Brockport, N.Y., which sold Chrysler, Dodge and Jeep vehicles. "I would love to have my franchise back."
Reixinger lives his brand. He took the 30-year-old business over from his father, who spent decades selling Chrysler cars to residents of his rural town. The whole Reixinger family drives Dodge Ram pickup trucks, and Andrew's red 2007 model features a giant handpainted Ram's head logo. But in May, Reixinger was one of 789 dealers given termination notices. He had less than a month to wind down the business.
Without a valid dealer license, Reixinger wasn't allowed to sell his cars to customers any more. He had to unload his vehicles to other dealers, barely breaking even on the transaction. His inventory of parts went for pennies on the dollar. The Chrysler Financial credit line that financed his business vanished.
"Going from having a large floor plan line of credit to nothing changes the game," he said. Reixinger is financing his entire inventory with his own money: "Right now, I have 47 cars and I own them all."
Barry's Auto Center is still open for business, but for now, it deals exclusively in used cars. None of the seven banks Reixinger has approached for a loan are willing to work with the dealership -- even though he has solid credit and a fully paid off commercial property to put up as collateral. His staff of 12 employees has dropped to 10.
Customers comment on the Ram that still festoons his truck. "People ask me, 'Aren't you going to get rid of it, since what they did to you?'" he said. "I chose not to because I love the truck."
That's why he plans to appeal. "If I could be a franchise dealer again, great," he said. "What they did to us was beyond wrong, but what are you going to do? I like the product."
Political pressures mount
GM and Chrysler's decision to introduce an appeal process came after months of intensifying backlash. Each company collected billions of taxpayer dollars through bailouts, and dealers are irate at the prospect of government-backed companies turning around and dropping a guillotine on small, locally owned businesses. Their lobbying prompted Congress to intervene.
"Profitable dealerships that were closed for possibly unfair reasons deserve the opportunity to hear why they were closed and discuss the merits of reopening with an independent arbitrator who can make a binding decision," said House Majority Leader Steny Hoyer, D-Md.
The appeal process GM and Chrysler initially mapped out this month pleased no one. "Under their plans, a car dealer would have had a better change at winning the Powerball lottery than getting back in business," the Committee to Restore Dealers Rights fired back in a statement.
The House of Representatives weighed in Thursday by passing a bill that places additional demands on the arbitration process the auto companies plan to use to field appeals. The Senate will soon take up the legislation.
Both GM and Chrysler say they need to shed dealerships to increase their profitability. The almost 800 dealers Chrysler cut represented 25% of the company's dealership network but accounted for only 14% of its sales, according to the company. Having underperforming or ill-maintained dealerships around tarnishes the brand, the auto makers contend.
Behind-the-scenes negotiations have already saved some dealerships from the scrap heap. GM warned at least 1,100 of its 6,000 dealers that their contracts would not be renewed in October 2010. Complaints and pleadings flooded in, and GM took some to heart. So far, 80 dealerships have been reinstated, a company spokesman confirmed.
Fighting for survival
The GM dealers on death watch were given a year to wind down their operations, but Chrysler's dealers suffered a particularly brutal and sudden cut. Their licenses were pulled in June, less than a month after termination notices went out.
But a surprisingly high number may choose to appeal. Neil Miller, president of is the Bell McCall Company in Hamilton, Mont., says he'll definitely give it a try. "From a dealer's standpoint, we don't understand what they gain from closing us down," Miller said.
Miller's new and used car business specialized in Ford and Chrysler brands; now, it's only licensed with Ford. Taking care of his customers has become a big challenge. "We sold to the customers with the idea that we were going to be here to deal with their warranty problems," Miller said. "Now we can't. Depending on where they live in this area, they now have to go between 50 to 80 miles to get to the nearest dealer in the area."
The warranty issue is a pervasive complaint. Jeff Duvall, who had his Chrysler dealership in Clayton, Ga., closed down, has been continuing to honor his customer's warranties, either by paying out of pocket for the repair at one of his other two car dealerships (which sell Ford and Chevrolet vehicles) or by hauling the customer's car to the closest Chrysler dealership still in operation.
"When a customer buys a car from me, I take care of them, through thick and thin," said Duvall, who has owned dealerships in the neighborhood for more than 50 years. Right now, he has a staff of 65 working at his three dealerships.
"I need to terminate around 15 people, but I am doing everything possible to keep them working, so currently I have absorbed all the excess Chrysler people into the other franchises," he said. "I will not be able to keep them very much longer unless we get reinstated."
GM dealers, too, are ready to go to the mat to stay open.
Jim Brown, the president of Classic Auto Group in Mentor, Ohio, has been selling GM cars for 44 years. His Cadillac showroom got a termination notice. It's an ironic twist: Thirty years ago, General Motors loaned him the money to open his first dealership.
"Without their program, I never could have done it," Brown said. He currently owns 20 car dealerships. "I am where I am today because of the help I got from GM." Despite getting the axe, he's not angry with the company -- his loyalty runs deep.
Loyalty is also motivating Scott Adams to fight to retain his GM license. "My first dealership was a Chevrolet dealership -- I got it on my 28th birthday," he recalls. Since then, he's run as many as 11 different car shops, three of which he currently operates. His Ray Adams Chevrolet dealership in Belton, Mo., is on the chopping block. But Adams can't imagine life without Chevy.
"I drive a Chevrolet, my family drives a Chevrolet," he said. "I would prefer to be a Chevrolet dealer for a long, long time."

To write a note to the editor about this article,
click here
.