Want to create jobs? Import entrepreneurs
Many of America's biggest tech employers were launched by immigrants. So why do we make it so hard for foreign entrepreneurs to do business here?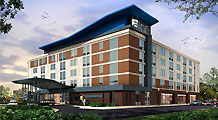 The little-known EB-5 visa program offers international investors a deal: Put up $500,000 for a project that creates 10 jobs and get a green card in return. Here's a look 5 projects funded through the program.
(CNNMoney.com) -- A five-foot robot sits in Jon Wheatley's chair during most U.S. investor presentations, listening, speaking, and watching the meeting as Wheatley maneuvers it from a laptop in London. The shtick draws attention to Wheatley and his company, social media Web site DailyBooth.com, but the robot (provided by one of his investors) serves a purpose: Wheatley cannot set foot in the United States.
The 22-year-old Brit's deportation came from an innocent mistake. When immigration officials pulled him aside during a three-month trip to Silicon Valley last summer, he mentioned he might talk to an attorney about trying to get a visa to stay and build his company there.
Officials deported him, quashing his immigration plans. Wheatley now works nights to match U.S. business hours while his American cofounder, Ryan Amos, runs the Mountain View, Calif., company. "I'm completely bummed out about it," says Wheatley. "It's something we really shouldn't have to be dealing with."
Stories abound of smart, motivated foreigners eager to live here, start a business and create jobs amid the nation's worst economic recession in decades. But no visa exists specifically for entrepreneurs.
Their contributions could be huge: a quarter of American tech companies -- including Google (GOOG, Fortune 500), Yahoo (YHOO, Fortune 500) and Intel (INTL) -- have foreign-born founders. In Silicon Valley, half of all tech company founders hail from outside America, according to a study by Vivek Wadhwa, a Harvard researcher and Duke engineering professor. These entrepreneurs typically either came here as children or waited years to get their green cards, Wadhwa says. Today, that backlogged process may take decades. It's a massive reverse brain drain, as skilled foreigners go elsewhere.
"Let these people in and you would way more than double the number of successful startups in the United States," says Paul Graham, whose venture capital firm, YCombinator, provided seed financing to Wheatley's business.
Graham wrote a blog post proposing that the U.S. issue 10,000 visas each year earmarked specifically for entrepreneurs. The suggestion unleashed a grassroots groundswell and a lobbying Web site, StartupVisa.com. One lawmaker has taken up the cause: U.S. Rep. Jared Polis, D-Colo., introduced a legislative measure last week that would include entrepreneurs in the EB-5 visa class, which is now reserved for foreign investors in U.S. businesses.
The measure is already drawing criticism. "We don't want this to be another backdoor immigration policy where people just buy their way in," says Rick Oltman, national media director of Californians for Population Stabilization, which wants to eliminate illegal immigration and reduce legal immigration. "We would be skeptical of the government's ability to monitor this stuff, because of they have not done a good a job of it in the past."
Few would claim that inviting educated people to create jobs and wealth is bad for the economy. Chile has thrown its doors wide open, not only offering permanent visas to entrepreneurs but paying them up to $30,000 to visit the country and another $30,000 to start a business. The government will even pick up the office rent for the first five years.
But laying out the welcome mat in the United States is tricky. Paperwork and bureaucracy mire existing visa rules, and immigration officials are far from hospitable. Audits and investigations are common at companies that hire foreign nationals.
"I have never seen this kind of crackdown on businesses," says Sheela Murthy, an immigration lawyer in Owings Mills, Md. The paperwork required to bring on foreign workers is extremely complicated, and any mistake can result in fines totaling thousands of dollars per violation, she says. "If you don't dot all your i's and cross all your t's, you could be shut down."
A new visa class would mean sorting out a myriad of details, like how the government determines who qualifies as a legitimate entrepreneur. One idea: A board of venture capitalists, entrepreneurs and lawyers could screen those visa applications. The government could set benchmarks, requiring, for example, that a founder own at least 10% of a company that has raised $250,000 within the past year.
Another idea: Create a "gold card" class of investors, whom the government has vetted and trusts. Any investment their firm makes in a foreign national's business means an automatic green card for that company's founder.
Of course, there's a clear pitfall to tying immigration status to business success: Startups fail. What happens to the visa then? Boulder venture capitalist Brad Feld proposes requiring the entrepreneur to start another company within a year or the visa expires.
Despite pressure to do something -- anything -- to improve the job market, Congress isn't likely to move any time soon on the startup visa proposal. Lawmakers are tied up slugging it out over health care reform and aren't likely to take a serious look at immigration reform for at least another year. Even then, controversy over illegal immigration could overshadow or kill the measure.
In the meantime, Wheatley is doing what he can to build his business in the United States -- even sending his robot to business mixers. "It's a little weird sometimes, but we have to make the most of the situation," he says.

To write a note to the editor about this article,
click here
.