Manufacturing growth jumps
NEW YORK (CNNMoney.com) -- Manufacturing activity jumped in December, signaling growth in the sector for a fifth consecutive month, a purchasing managers' group said Monday.
The Tempe, Ariz.-based Institute for Supply Management's index of U.S. manufacturing rose to 55.9 from 53.6 in November. This is the highest level since April 2006 when the index climbed to 56.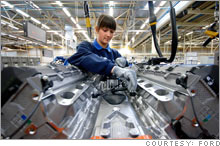 The reading beat estimates from economists, who expected the index to jump to 54.3, according to a consensus compiled by Briefing.com.

"This is the latest sign of resiliency and strength in the manufacturing industry," said Tim Quinlan, an economic analyst at Wachovia. "It's certainly a positive sign for the manufacturing sector and the broader economy."
Levels higher than 50 signal manufacturing growth, while readings below 50 indicate contraction.

"Overall, the recovery in manufacturing is continuing, but there are still some industries mired in the downturn," said Norbert Ore, chair of the ISM's manufacturing business survey committee.
Of the 18 manufacturing divisions reporting, seven posted contraction -- including categories such as wood products, plastics and rubber, and chemical products. Sectors reporting growth included apparel, computer and electronic products, furniture, transportation equipment and paper products.
The monthly report surveys ISM members, who are purchasing managers in the manufacturing industry. An index above 41.2 implies expansion in the overall economy, making December the eighth consecutive month of economic growth.

New orders and production: The ISM's new orders index and production index both grew significantly, climbing above 60 in December.
"The most encouraging jump was in new orders," said Quinlan. "New orders in particular is a great leading indicator for actual orders, so this is a sign that the strength we've been seeing may have some legs."
The index of new orders for manufactured goods, an indication of manufacturing activity in the near future, increased by 5.2 percent, reaching 65.5 in December. This was the sixth consecutive month of growth in new orders.
The ISM's production index rose to 61.8 from 59.9 in November, marking the seventh consecutive month the production index has been above 50.
The employment index also rose, reaching 52 from 50.8 in November. This is the third month of employment growth, following a 14-month decline.
The ISM tracks new orders, production, employment, supplier deliveries, inventories, customers' inventories, the backlog of orders, prices, new export orders, imports and buying policies.

Separately, a government report showed Monday that construction spending in November fell 0.6% to a seasonally adjusted annual rate of $900.1 billion from $905.6 billion in October.