The first small business loan of the year goes to ....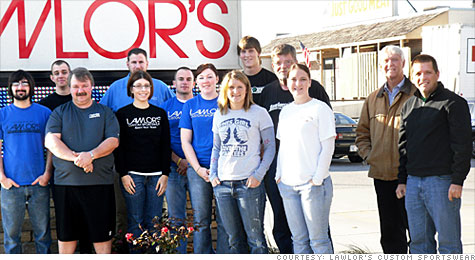 (CNNMoney.com) -- Last year was one of the grimmest on record for small business lending, which begs the question: Will 2010 be any better?
To kick off the new year, we asked the Small Business Administration to find us the first business to receive funding this year through an SBA loan. The agency came back with Lawlor's Custom Sportswear in Omaha, which had its loan application approved Jan. 7 and received a $100,000 check from its bank, Security National Bank of Omaha, on Jan. 19.
When an opportunity arose in November to rent prime real estate in a popular area shopping mall, Pat Lawlor knew it wasn't exactly the best time to expand his modest chain of sports apparel retail stores.
Revenues for Lawlor's Custom Sportswear, which has 28 employees in four locations in and around Omaha, were on track to be down 10% for the year. Plus, the company was already trying to pay off substantial debt.
"I'd be lying if I said that it wasn't a bad year," Lawlor said.
He had a couple of things in his favor, though. The University of Nebraska Cornhuskers football team, for which Lawlor's carries spirit apparel, was having the best season they'd had in years. That goosed retail sales.
"In Nebraska, how the Huskers are doing drives everything," Lawlor said.
Moreover, the deal -- which was a relative bargain because the vendor had trouble renting the space, thanks to the recession -- would give him exclusive rights to sell Cornhusker clothing in the popular Shadow Lake mall.
"It was a chance to lock up a really good deal that normally would have been more expensive to do," he said.
Lawlor knew he would need a loan to help him open the new store, so he turned to National Security of Omaha. He worked with the bank in 2007 to get a loan for another new facility, and also had a credit line open there.
Lawlor saw the loan not just as an opportunity to expand, but to also pay down that credit line, which he'd been using to make structural and decorative improvements to existing stores.
"We've used the credit line to outfit our buildings, when every time we should have gotten a commercial loan," he said. "If you get too far behind on a credit line, that's the single biggest thing banks get nervous about."
Lawlor credits Michael Wear, a vice president at Security National Bank, for tipping him off about SBA Express. It's a faster approval process offered by the SBA for loans under $350,000.
The process for the new loan was infinitely less painful than the approval process for the 2007 loan, which took about a year from approval to close, Lawlor said.
"It was brutal," he said. "It seems like I almost paid interest for a year before the SBA was ready to close."
By comparison, the SBA Express loan closed in less than two weeks. Lawlor's also qualified for a Recovery Act-funded reduction in fees, which saved the company $2,000 upfront, said Michael Wear of Security National.
With SBA Express loans, banks take a higher risk than they do with the SBA's traditional loan programs. In return for fast approval, the SBA offers a lower guarantee on the loan, capping its payout if the loan turns bad at no more than 50%. Traditional SBA loans currently offer banks a guarantee of up to 90%.
Wear said Lawlor's was a good candidate because it was an existing customer trying to build, rather than one seeking a loan to bail itself out of trouble.
"This is not a struggling business -- this business wanted to grow and expand its locations and hire more," Wear said. "This is a happy story."
That Lawlor planned to use $60,000 of the loan to pay down its existing credit line with the bank also was attractive to Security National, he added.
Of the remaining funds, $30,000 will go to pay startup costs for the new store, which opened Nov. 20 and created three new jobs for the company, Lawlor said.
The last $10,000 of the loan paid for energy-efficiency improvements at the new store, and better and more efficient lights at the company's custom T-shirt factory at its headquarters location.
Back on more solid ground following the influx of cash, Lawlor said he is optimistic about the year ahead for his company, which has survived more than a century. Lawlor's great-grandfather started the business in 1896 as a bicycle shop.
Prior to the recession, Lawlor's had been growing its revenue 25% each year. With sales up 30% so far in January and enthusiasm building for the next Cornhusker football season, Lawlor expects his company to return to its previous growth rate.
The recession hasn't been easy. Two of Lawlor's main suppliers went bankrupt. Still, he considers himself lucky to be in his current position.
"My greatest advantage is knowing that my great-grandfather, grandfather and father got the store through two World Wars and the Great Depression," he said. "They were role models to me that giving up is never an option."