What's wrong with this picture: Kodak tops S&P
NEW YORK (CNNMoney.com) -- Many investing pros thought that 2010 would be the year when quality growth companies, firms with strong balance sheets and healthy earnings prospects, would lead the market.
We're still waiting for that to happen. Sure, the year is only about a month and a half old. But so far, this year is looking a lot like 2009. Companies with questionable fundamentals are on fire while many solid blue chips lag.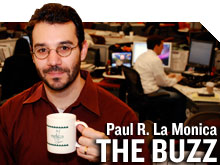 Eastman Kodak is up nearly 42% this year, making it the biggest gainer in the S&P 500 so far in 2010. To be fair, Kodak (EK, Fortune 500) does look like an appealing turnaround story. The company reported a fourth-quarter profit last month -- the first time the photo giant did so in more than a year.
Still, Kodak's best days are clearly behind it as the company never truly cashed in on the shift from traditional film to digital photos. Analysts are predicting a full-year profit for 2010, but only flat sales growth. What's more, Wall Street is currently predicting that Kodak will lose money in 2011 and that sales will fall.
Does that sound like a stock that should be the S&P 500's biggest winner?
Kodak isn't the only stock of questionable quality having a strong year. Several unprofitable regional banks, including Utah's Zions Bancorp (ZION) and a trio of troubled lenders from the Buckeye State -- KeyCorp (KEY, Fortune 500), Fifth Third Bancorp (FITB, Fortune 500) and Huntington Bancshares (HBAN) -- are all up more than 20% this year.
These banks, as well as several other regional banks, have rallied mainly due to signs that the worst is over in terms of big writedowns for credit-related losses.
That may be true, but that doesn't mean these banks are now suddenly healthy again. At some point, investors will want more than just assurance that these banks won't completely collapse.
"You're still going to see companies that had almost near death experiences last year reporting a recovery from that experience and that's going to look attractive," said Mark Phelps, CEO of W.P. Stewart & Co., an investment firm in New York. "But that sentiment is going to run out after a couple of quarters."
Phelps, whose firm only invests in a small group of high-quality companies with a big global presence, said long-term investors looking for good stocks for the next few years are better off buying companies such as PepsiCo (PEP, Fortune 500), Mastercard (MA, Fortune 500) and Procter & Gamble (PG, Fortune 500). His firm owns all three.
Robert Zagunis co-portfolio manager of the Jensen Portfolio in Lake Oswego, Ore., agreed with Phelps. He said his firm is avoiding "low-quality stuff" in favor of owning more steady performers such as P&G, Coca-Cola (KO, Fortune 500), Clorox (CLX, Fortune 500) and Colgate-Palmolive (CL, Fortune 500).
Zagunis said he is encouraged by recent quarterly profits from these companies, and thinks that investors will eventually realize that dependability makes more sense than speculation.
"A theme is emerging that bodes pretty well. Companies that made good decisions over the past year and a half are starting to show strong earnings and top line growth," he said. "It's a pleasant surprise and it's a return to real growth, not just lower costs driven by inventory and job cuts."
Bill Fries, a portfolio manager with Thornburg Investment Management in Santa Fe, N.M., added that another reason for a big surge in companies of more questionable quality is that there is a sense these stocks may still be cheap after getting beat up so badly in 2008 and early last year.
"Any time the market puts a scare in people, investors become more valuation conscious. But I think sometimes the low valuations can be a head fake," he said.
He points to the banks and home builder sector, another strong performer this year, as an example of seemingly cheap prices being an illusion. Lennar (LEN), D.R. Horton (DHI, Fortune 500) and Pulte Homes (PHM, Fortune 500) have all shot up at least 15% this year.
Investors may be betting that the stocks are bargains because the housing market may have bottomed and because many builders returned to profitability in the latest quarter.
But the profits were largely a function of a favorable change to tax law, and Fries pointed out that any rebound in housing is going to take several years, not weeks or months, to unfold.
"We are in an environment where we are going to have slow economic growth. The housing industry has been in the tank for quite a while, so any kind of major cure there would turn out to be a surprise," he said.
Jeffrey Saut, chief investment strategist for Raymond James in St. Petersburg, Fla., summed up the market's increasingly myopic focus best.
"Is the junk rally over? I don't know but I'm not buying into it," he said. "I want to buy companies with decent fundamentals. I'm not going to buy a stock because I hope someone is going to pay more for it a week from now."
Reader comment of the week: Berkshire Hathaway is now a stock that, to use a famous Palin-ism, Joe Sixpack can buy. I wrote in Thursday's column that Berkshire's B stock still looked attractive even though it's up about 7% since a stock split last month that reduced the per share price to about $75.
And Sheldon Borges apparently agrees. "I've been waiting since I was 12 years old to afford this stock. I am happy to own some now," he wrote. I don't know how old Mr. Borges is now, but 12-year olds today can do a lot worse than deciding to emulate Warren Buffett.
-- The opinions expressed in this commentary are solely those of Paul R. La Monica.