Citi's Pandit aims for $20 billion in profits
NEW YORK (CNNMoney.com) -- Citigroup CEO Vikram Pandit offered a bold outlook for his troubled firm Thursday, saying he hoped his company would soon be able to deliver profits of approximately $20 billion.
Pandit, speaking at a company-sponsored conference, did not give a time frame for when the bank would generate this profit. He did stress however that the company would be able to earn big returns on the assets within its Citicorp division, which oversees both its investment bank and consumer banking businesses.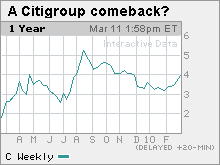 "It is time to shift our focus to the future which is Citicorp," he told an audience in New York.
The company split itself into two parts in January 2009 - Citicorp and Citi Holdings - as part of an effort to get the beleaguered bank back on track.
Citi Holdings, which was created as a dumping ground for its so-called "troubled assets", controls roughly $547 billion worth of assets. Losses within that division widened to $2.4 billion during fourth quarter of last year.
Capturing large profits within its Citicorp business though could offset any troubles within its Citi Holdings division.
It would also be a significant turnaround from the severe losses the bank has endured since the start of the crisis. During 2008 alone, Citigroup lost $27.7 billion.
The company already reached one major milestone late last year after paying back the $45 billion it received under the Troubled Asset Relief Program, or TARP.
U.S. taxpayers however, still own a 27% stake in the company.
At a hearing in Washington last week, a Treasury Department official said the agency planned to dispose of its remaining stake in the firm "as soon as possible."
Pandit noted Thursday that the government will not be able to sell any of its shares until at least later this month when a lock-up on Citigroup stock expires. Treasury would also have to give notice if it indeed planned to sell at least part of its stake.
"Given where the economy is, given where the stock is, I wouldn't be surprised if they would think about doing that," said Pandit.
Citigroup (C, Fortune 500) shares gained nearly 5% in afternoon trading Thursday. The stock has gained nearly 20% so far this week.