Bet on the consumer to lead the recovery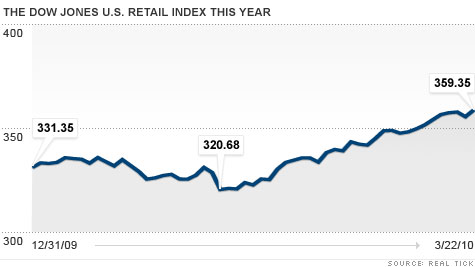 NEW YORK (CNNMoney.com) -- For those who expect a brutal jobs market and a nervous consumer to threaten the economic recovery this year, a rally in the retail sector is a surprising bright spot.
Even with the market's most recent run up, the Dow Jones industrial average has gained a modest 3% year to date, while the S&P 500 is up just 4% and the Nasdaq composite has risen a mere 4.6%.
Meanwhile, the retail sector has been staging a stealth rally, with the S&P Retail (RLX) index jumping more than 8% from the start of the year and the Morgan Stanley retail index surging more than 14%. Individual stocks have been even more buoyant, with many of the best performers in the S&P 500, the S&P MidCap 400 and S&P SmallCap 600 coming from the retail sector.
"I think it has to be seen as a good sign," said Bernard McGinn, chief executive of McGinn Investment Management.
He said the stock gains suggest that retailers have become more efficient since the recession. And that has translated into improving sales and profits. On top of that, consumers are starting to loosen their purse strings.
"They're not spending anywhere near the levels of three years ago, but they are spending more than we thought they would," he said.
A perception that the sector is stabilizing and that the economic recovery will pick up later in the year has brought in some big buyers. But many investors remain wary of the buoyancy in the retail sector amid bets that the current pickup in spending can't last, particularly with unemployment continuing to rise.
"The gains in consumer discretionary and the retail sector mean people are banking on a powerful recovery that we don't think is going to happen," said Ben Halliburton, chief investment officer at Tradition Capital Management.
He said he'd rather be in the consumer staples sector because those stocks have a global presence and aren't tied to the U.S. consumer. Some of the year-to-date winners in that sector include Tyson Foods (TSN, Fortune 500) (+42%), Dr Pepper Snapple Group (DPS, Fortune 500) (+24%) and PepsiCo (PEP, Fortune 500) (+9%).
The fact that many individual investors are unwilling to jump into the retail sector with both feet could also be seen as a positive indicator, from a contrarian viewpoint.
"Retailers are up a lot, but the overall sentiment is negative and a lot of people are still betting against the stocks," said Ryan Detrick, senior technical strategist at Schaeffer's Investment Research.
"When you have something helping to lead the market higher yet people are throwing their hands up, that can be a good thing," he explained. "That skepticism can keep driving the stocks higher."
Sales drive stock growth
Still, improving store sales have been translating into share growth for many of the nation's largest publicly-traded retailers.
December and January same-store sales rose by a larger than expected pace, significant as the two months include the critical holiday period. Easter sales are also expected to have risen 2%. Same-store sales is a retail industry metric that measures stores that have been open a year or more.
Considering the level of insecurity about the economy, the willingness of Americans to spend even moderately more than a year ago is a step in the right direction.
Clothing retailers have spiked 17% year-to-date, led by Ross Stores (ROST, Fortune 500) (up 25.4%) and Abercrombie & Fitch (ANF) (up 24.6%). General merchandisers are up 12%, including Family Dollar Stores (FDO, Fortune 500) (up 27.3%) and Big Lots (BIG, Fortune 500) (up 24.2%). Big department chains are up 11%, including Macy's (M, Fortune 500) (up 28.6%) and Sears Holdings (SHLD, Fortune 500) (up 24.7%).
Discounters have been outperforming their luxury brethren, unsurprising in a post-recession economy. But the sector as a whole has also been holding up well, despite middling consumer sentiment and an unemployment rate that stood at 9.7% last month.
Aside from traditional retail, consumer discretionary, the category that also includes restaurants, hotels and casinos, is up 8% from the start of the year. That makes it the second-best performing sector this year, narrowly trailing industrials, which include Dow stocks Boeing (BA, Fortune 500) (+29%) and General Electric (GE, Fortune 500) (up 15%).