Hyundai shoots for uber-luxury with Equus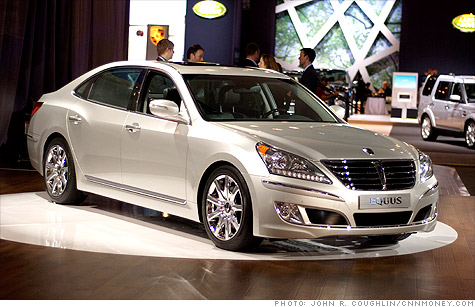 NEW YORK (CNNMoney.com) -- Hyundai unveiled its new Equus luxury car at the New York Auto Show Thursday, aiming even deeper into the luxury market.
The full-size Equus sedan shares its basic engineering with the rear-wheel-drive Genesis, but is even bigger and more luxurious.
While the Genesis is intended to compete against mid-size luxury sedans like the Mercedes-Benz E-class, the Equus is aimed at big top-of-the-line cars like Mercedes-Benz S-class or, the car Hyundai says its most targeting, the Lexus LS, at about two-thirds the cost.
Hyundai expects to sell the car at a starting price of $50,000 to $60,000.
"Equus takes Hyundai's formula for intelligent luxury to a new level," Hyundai CEO John Kafcik said in an announcement.
Hyundai's experience with the Genesis shows that it is capable of making a luxury-level car, said Michael Quincy, an autos specialist with Consumer Reports magazine.
The question, he said, isn't whether it can build a car on the level of the Equus, but why bother doing it?
"The Genesis is plenty of car for anyone," he said. "Who needs more than that?"
Plus, buyers of cars of this caliber are often more interested in status, something Hyundai still lacks, than a good value.
But the Hyundai badge now offers a different kind of exclusivity and intrigue, said Chris Perry, Hyundai's interim marketing chief. A car like the Genesis or Equus is exclusive and says something about the owner, he said.
"We have customers trading in BMW, Mercedes, Lexus to buy a Genesis," he said.
The Equus will be powered by a V8 engine capable of producing 385 horsepower using premium fuel. (Power output will be slightly lower using regular gasoline.) Fuel economy is expected to be 16 miles per gallon in city driving, Hyundai said, and 24 in highway driving.
Beyond the driving experience and available amenities such as a massaging, reclining back seat with a footrest, Hyundai is promising to mimic the luxury car dealer experience, as well, Perry, said.
Rather than driving to the dealership, a dealership representative will bring a temporary replacement car to the owner's home or office and bring the Equus in for scheduled maintenance or repair work, Hyundai executives said. The car will then be returned when the work is done.
Potential owners, likewise, will not have to go into a dealer to test drive the car. Test drive opportunities will be provided at potential buyers' homes or offices.
Every Equus will come with a small tablet PC that will replace the standard paper owner's manual. In addition to providing information about the car and its features, the computer will also track scheduled maintenance and will even connect to the dealership to schedule appointments.
Not every Hyundai dealer will be eligible to sell the Equus, Hyundai executives said. Hyundai will select specific dealers in places where market research indicates there are enough customers interested in full-sized luxury cars.
For that reason, potential buyers in some markets, particularly those far from major metropolitan areas, will simply not be able to get an Equus, Perry said.