Tax procrastinator? Google can hook you up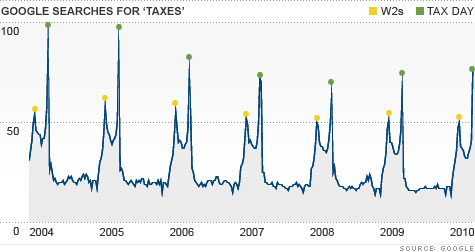 NEW YORK (CNNMoney.com) -- Tax day is Thursday and if you've waited until the last minute to file your return, that makes you a prime target for tax preparers.
The days leading up to April 15 are like Black Friday for companies like H&R Block and TurboTax. And they're all looking for an edge that will get you "in the door."
As more and more taxpayers spend time e-filing and scouring the Internet for tax help, finding ways to optimize online ads is invaluable for tax preparers. And that's where Google comes in. The search giant's analytics tools can narrow down when most people are searching for tax help, making it prime time for advertising those services.
Unsurprisingly, Google (GOOG, Fortune 500) says the volume of searches for terms like "tax," "taxes," and "IRS" doubles between February and mid-April. But by using advanced tools like Google Insights, tax preparers can find a much more revealing trend: The majority of people really only care about taxes for about six or seven days a year.
Search traffic for "taxes" surges an average 150% right after W2s are distributed during the first week of February. Those searches quickly die down and stay low until the days leading up to April 15. During the last three- to four-day stretch of tax season, tax-related searches rise an average of 270%. That's nearly quadruple the amount that occurs during a typical week in the "off-season."
TurboTax, which is a Google Analytics customer, calls the trend "Batman ears": Two exceedingly short periods of time to get it right or pay the price.
"Google is really important to our business because it helps us understand consumers' behavioral intent so we can serve up the right types of ads in the right places to the right people," said Seth Greenberg, director of national media and digital marketing at TurboTax. "There's such a small window of time, and the margin of error is so tight."
TurboTax, which is owned by Intuit (INTU), took in just under $1 billion of revenue from its tax products last year, and $780 million of that came during tax season.
"The two peaks make or break tax companies' years," said Jon Kaplan, head of Google's financial services industry team. "They have to have a sound, focused marketing strategy that takes advantage of those three- to four-day peaks, and they can't really have a bad day."
Cutting through the noise
As more people file online, competition is growing more intense: A search query for "taxes" on Tuesday returned sponsored ads from 11 of Google's advertising partners, including TurboTax, H&R Block (HRB), and Jackson Hewitt, all promoting their free online e-file systems. Google said its partners spend tens of millions of search advertising dollars during tax season.
To cut through the noise, TurboTax said Google helps it offer its most relevant taxpayer ads at the most relevant time.
Some of the solutions have little to do with analytics. For instance, Google allows TurboTax to display two different types of ads: one for existing TurboTax customers and one for potential new customers. It also lets TurboTax do "remarketing." That is, showing ads specifically for customers who visited the site but ultimately didn't use TurboTax's products.
Other solutions are a little more involved. For example, Google's data show that searches for "tax refund" soar in early February, when W2s go out, and then taper off. TurboTax says it found a correlation between early filers and those getting refunds, allowing the company to adjust its ads accordingly.
Google also found that most people clicking on TurboTax ads were from a younger demographic, which the company chalks up to the fact that it runs its tax business exclusively on the computer. As a result, TurboTax has turned to social networking to attract customers. It also had a "Tax Rap" competition this year, the winner of which is currently displayed on YouTube's homepage.
In addition to the usual "taxes," "how to file," and "tax refund" searches, this year is bringing hot searches for "unemployment and taxes," as well as ones related to first-time homebuyer tax credit, new car purchase credit and Energy Star tax credits.
And the top tax-related search this week? "Tax extension."