Goldman Sachs isn't the next Enron
NEW YORK (CNNMoney.com) -- Investors abruptly slammed on the brakes Friday after the SEC's bombshell allegations of fraud against Goldman Sachs were announced.
Stocks immediately nose-dived and big banks really took it on the chin -- despite strong earnings reports from Bank of America (BAC, Fortune 500) and JPMorgan Chase (JPM, Fortune 500). But what now?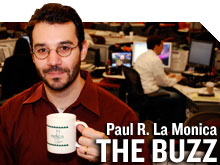 Is Goldman the tip of the iceberg -- an ushering in of a new era of corporate scandals along the lines of Enron, WorldCom and Tyco back in 2001 and 2002? Those high-profile cases of accounting shenanigans helped prolong the bear market that started after the dot-com bubble burst in 2000.
Or will investors quickly brush off the charges and chalk them up as the actions of a lone rogue employee -- or even cynically dismiss them as a case of business as usual on Wall Street?
For one day at least, the latter appeared to be true. Although shares of Goldman Sachs (GS, Fortune 500) dipped another 1% Monday following Friday's 13% plunge, the broader market was down only slightly.
Many financials even rose, lifted by Citigroup's (C, Fortune 500) 4% pop on the news that it reported a $4.4 billion quarterly profit.
Richard Ross, global technical strategist with Auerbach Grayson, a broker dealer based in New York, said investors may not get too worked up over the Goldman allegations.
That's because the biggest losers from the alleged Goldman Sachs subprime mortgage fraud appear to be other big banks and institutional investors -- not average retail investors or consumers.
Most individuals were not betting on the exotic types of securities known as collateralized debt obligations that are the subject of the SEC's fraud claims. There's also nothing to suggest that entire companies are at risk of bankruptcy because of the $1 billion investors lost in Goldman's so-called Abacus 2007-AC1.
"People may look the other way. The little guy may be encouraged by the fact that institutional clients are being taken advantage of by Wall Street firms," Ross said. "This isn't a case of individual investors getting burned by analysts touting Internet stocks to four-figure price targets or workers losing all their money in their 401(k) accounts."
Doug Ober, chairman and CEO of Adams Express (ADX), a Baltimore-based closed-end fund that invests in U.S. stocks, said that he also doubts that the Goldman allegations will hurt the broader market for a long period of time -- but the banking sector could be a different story.
"The financials will be under more of a cloud for a longer period of time. If litigation risks are growing, reserves have to grow since these companies could have sizeable legal expenses," he said.
Ober owns shares of Goldman rivals Morgan Stanley (MS, Fortune 500), BofA and JPMorgan Chase in his fund and concedes that they could be in for some "short-term tough sledding."
"There a fair number of investors that are pretty cynical already about Wall Street. Their reaction will be, 'I told you so. They're all in cahoots,'" he said.
Still, Ober believes that other big banks could eventually benefit from the Goldman allegations if it turns out that none of them are charged by the SEC for similar violations related to CDOs or other mortgage-related investments.
But Ted Parrish, co-manager of the Henssler Equity fund in Kennesaw, Ga., said that it's hard to imagine that Goldman will be the only big Wall Street firm implicated. It could be your classic case of there never being a solitary cockroach scrambling around.
"The big question is 'What's next?' There could be more investigations of other financials to come and if that's the case, it could get pretty bad," he said. "There could even be some situations that are even worse."
Along those lines, Parrish said his fund is sticking mainly with financials that should avoid any fallout from more subprime scandals.
The fund owns Wells Fargo (WFC, Fortune 500) (which has little Wall Street exposure), trust company Bank of New York Mellon (BK, Fortune 500) and regional bank Cullen/ Frost (CFR), a conservative San Antonio-based bank that took no bailout money.
"I wouldn't cut back on these financials but I would be leery of investing in some of the others. I wouldn't own any of the companies that could be in the crosshairs of the SEC," he said.
Belated reader comment of the week! In my frenzied rush to react to the Goldman news in Friday's Buzz, I neglected to give my usual Friday shout-out to my favorite piece of reader feedback.
There were a lot of great comments about last week's rent vs. buy pieces as well as the Goldman/SEC column. But Tim Bachler gets weekly honors for this rant about "junk" financial stocks leading the market.
"Instead of the dot.com companies in 1999-2000, now we have the financial zombies acting as the market leaders. Wonder what is going to happen to them when the new wave of foreclosures hit in the second half of this year ... This has bubble written all over it. How soon we forget," he wrote.
- The opinions expressed in this commentary are solely those of Paul R. La Monica.