Median home prices up 100% in Saginaw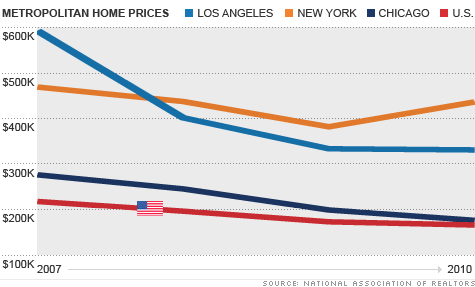 NEW YORK (CNNMoney.com) -- The median price of single family homes rose in 91 of 152 major metro markets during the first three months of the year compared with the same period in 2009.
Despite those gains, the nationwide median home price fell 0.7% to $166,100, according to the National Association of Realtors (NAR).
The price decline wasn't worse because a handful of places reported unusual robustness. Saginaw, Mich., for example, saw prices rise more than 100%. In the first three months of 2010, the median price jumped to $60,800 from just $30,300 last year.
All told, 29 places recorded double-digit gains, lead by: Akron, Ohio + 90.2%; Cleveland + 53.8%; and San Francisco + 28.9%.
The gains were ushered in by the tax credits for homebuyers, according to NAR's chief economist, Lawrence Yun. "The tax credit has been very effective in drawing down excess inventory, with about one million additional sales resulting directly from the stimulus," he explained.
Another factor is the change in what types of properties are being sold. A year ago, 70% of sales in these depressed Midwestern cities were "distressed properties." That means foreclosures sold at big discounts. Now, the majority of transactions are traditional sales with ordinary homeowners selling to homebuyers.
In Saginaw, half of the properties sold a year ago were distressed and went for less than $30,000, according to Nate Wilson, a local real estate agent with Wilson Realty.
Those homes now only account for roughly a third of sales volume, and the higher percentage of conventional sales is lifting the median price.
Wilson added that Saginaw is undergoing a transition from its dependency on auto-parts manufacturing to an economy relying on more modern industries, such as renewable energy.
One young major employer is Hemlock Semiconductor, a joint venture of Dow Corning, Shin-Etsu Handotai and Mitsubishi Material. It has a plant just outside Saginaw city proper and produces semiconductor devices used in solar energy cells. It is in the midst of a $1 billion expansion.
Gary Homan, a vice president for the company, said Hemlcok is probably doing more hiring than any other business in the area, having taken on hundreds of new workers for the past past three years.
Big picture
Nationally, much of the market improvement stems from a change in consumer psychology, according to NAR President Vicki Cox Golder.
"Buyer confidence is back, and home buyers have long-term views," she said. "The typical buyer plans to stay in their home for 10 years, so we've put the flipping mentality behind us and most people see housing for what it is -- shelter that provides social benefits and is also a good long-term investment."
Extremely reasonable mortgage terms have also helped shore up home sales: Mortgage interest rates averaged around 5% for a 30-year, fixed-rate loan during the quarter.
Still, some lending issues have yet to be worked through. NAR said that a third of its members reported that clients had difficulty obtaining mortgages, and 11% said they lost sales due to appraisals coming in for less than the prices negotiated between sellers and buyers. In those cases, lenders refused to issue the mortgages.
The figures were also likely skewed by the government interventions, especially the tax credits, according to Patrick Newport, a real estate analyst for IHS Global Insight.
"It's difficult to make sense of the sales numbers because the two tax credits distorted the data by shifting sales across time," he said. "But with the job market improving, we see the housing market improving sustainably starting in the second half of this year."
Regionally, the Northeast registered the biggest gain at 9% while the West fell the most, down 8.3%. The Midwest (down 0.8%) and the South (up 1.1%) were nearly flat.
Condo prices, at a national median of $170,700, fell 0.1% from the first quarter of 2009.