Massey stock plunges 10%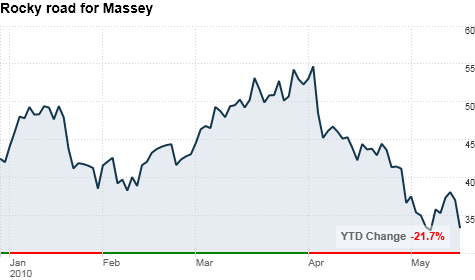 NEW YORK (CNNMoney.com) -- Shares of Massey Energy plunged about 10% Monday after a report surfaced over the weekend indicated the coal mining company may face a criminal investigation.
Federal prosecutors are investigating possible "willful criminal activity" by "directors, officers and agents" of Massey subsidiary Performance Coal at the Upper Big Branch coal mine where an explosion killed 29 workers last month, The Wall Street Journal reported on Saturday.
The April 5 explosion was the deadliest U.S. mining disaster in 25 years.
Shares of other mining companies took hits Monday as concerns about an economic slowdown in Europe dampened demand for energy stocks. But while shares of coal giant Peabody Energy (BTU, Fortune 500) fell about 5% and Patriot Coal (PCX) fell nearly 8%, Massey (MEE) took the biggest hit.
Pearce Hammond, director of institutional research at Simmons and Company International, said investors are probably spooked by the report about the criminal investigation as well as reports of more troubling news ahead of Massey's annual shareholder meeting Tuesday.
A Bloomberg report on Monday claimed that some large Massey shareholders will seek to block the re-election of three company board members at the meeting.
Another report by the Wall Street Journal on Monday said a congressional committee will vote on Wednesday on whether to give the House Education and Labor Committee deposition power to call witnesses in for questioning on the case.
Congress is investigating the mining disaster, and as part of the probe, Massey CEO Don Blankenship is scheduled to appear before a Senate committee on Thursday.
That marks a busy and stressful week for the company, Hammond said, and investors may be pulling out of Massey stock until it becomes clearer how much more legal risk it may face.
"We need to figure out what happened. I think the one problem Massey has right now is people jump to conclusions," Hammond said. "We have to wait and see. I don't want to cast doubt on the company at this point."
Massey shares have fallen about 40% since the mine explosion on April 5.