When construction potholes swallow shoppers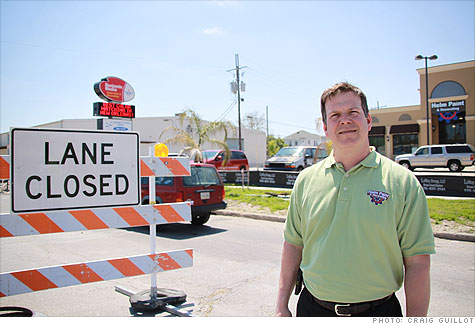 NEW ORLEANS (CNNMoney.com) -- Whether it's road resurfacing, sidewalk repairs or a sewer upgrade, public works projects can wreak havoc on local businesses -- and thanks to stimulus money, 2010 has been full of them.
There's usually a long-term benefit to such projects, but the short term fallout can be rough. Foot traffic is rerouted, access roads get closed, and basic utilities like water and electricity can vanish for hours.
Take Uptown New Orleans, where local businesses are struggling through the side effects of a $12.4 million road and sewer line rebuilding project on Earhart Boulevard, a popular commuter route. While the repairs have been needed for years, residents say, construction and lane closures have dramatically added to the area's traffic congestion.
Joey Helm, general manager and co-owner of Helm Paint & Supply, estimates that his sales are down 25% since the work began in December 2009. Although Helm posted signs to direct customers to his parking lot, the traffic tangles discourage potential shoppers.
"People just don't want to deal with it," Helm says. "It might take them an extra 30 to 45 minutes to get here, and major inconveniences like that can stifle your revenue."
Just around the corner at Ye Olde College Inn, owner John Blanchard says sales for his 4 p.m. to 6:30 dinner rush are off by 80%.
"They're supposed to be here about two years on Earhart and five months on Carrollton," he says, referring to the intersections bordering his landmark restaurant. "That's a long time, and [the loss] adds up."
Neither Helm nor Blanchard have yet come up with any solutions to offset the declines. So far, they've increased signage and are hoping to wait it out. Although Helm has other locations in New Orleans to cushion his sales loss, he is worried about the toll the construction is taking on a tenant business that rents space in his building.
The best way to minimize the impact of construction on area businesses is to involve them early on in the planning process. In Oshkosh, Wis., downtown planners began their outreach about an overhaul of the city's Main Street a full two years before breaking ground in March.
More than a dozen meetings open to the entire community helped residents understand what the final project would look like, says Maureen Lasky, manager of the Downtown Oshkosk Business Improvement District. The organization created an information packet for local business owners and planned promotions and special events to lure shoppers downtown.
"The biggest thing we did to prepare was communication," Lasky says. "We put together a committee two years ago and always reiterated to people that they needed to come down and support these businesses."
Cash helped get business owners behind the project. The Business Improvement District offered matching grants of up to $500 for advertising in the local media. Because many Main Street businesses have rear access, the organization also launched a grant program offering retailers up to $1,000 to beautify their back doors.
The entire project was branded with a mascot, signage, and its own Facebook page to keep shoppers and businesses up-to-date on the construction.
"The branding on the signage downtown gave it all the same look and feel, making sure that when people get downtown, they can find their way around by following MainStreet Max," Lasky says.
Notes from the trenches
After enduring two consecutive summers of road construction in front of her Madison, Wisc., business, Susan Bulgrin decided to share her hard-won wisdom. In collaboration with the Madison Chamber of Commerce, she published a "Road Construction Survival Guide."
"Businesses need to bond together as a business group or organization and plan with the contractors and city staff to lessen their burdens," says Bulgrin, who owns a local Culver's frozen custard franchise. "A lot of it should be done even before the road construction begins."
In her experience, contractors are willing to work with businesses to adjust their work schedules, change signage and routes and even alter work schedules to accommodate special events. In her guide, Bulgrin also recommends delivering products to customers, extending business hours, joining local business organizations, securing a line of credit to prepare for a possible decline in sales, and informing customers months in advance of the construction.
Back in New Orleans, Blanchard found contractors to be receptive to moving access points to his business and keeping them open, but only "when you keep on them."
Helm said the New Orleans Public Works department recommended he advertise more, but that comes at the expense of eroding profit margins.
"I think this [construction project] will be a blessing when it's done, but it can also cripple the businesses in this area," he says.