Fear index eases off 14-month high
NEW YORK (CNNMoney.com) -- Wall Street's key volatility measure fell Tuesday as stocks, battered by persistent worries about the health of European banks and sustainability of the global economic recovery, pared losses.
The CBOE Volatility (VIX) index, or the VIX, fell 7.5% to 35.61, after rising as high as 43.74 earlier in the trading session. The index has eased off the 14-month high set last Thursday.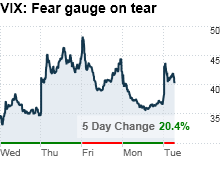 Investors remained skittish as stocks plunged around the globe earlier Tuesday. The Dow Jones industrial average lost (INDU) nearly 200 points, continuing the downward tear it has been on for most of May, before cutting some losses in afternoon trading.
The VIX jumped 30% on May 20 to settle at 45.79, the highest level since March 20, 2009, following Germany's ban on so-called naked short selling on some financial institutions and European Union government bonds. A VIX reading higher than 30 is considered a sign of increased worry among investors.
The move was geared toward stabilizing the euro and the region, but instead sent stocks plunging, as many investors saw it as a sign that European banks and sovereigns are on shaky footing.
Although down on Tuesday, the VIX is still up 129% since April 12, when it was trading at 15.58 -- its lowest level in nearly three years.
Year-to-date the fear gauge is up 63.75%, and up 20.4% over the past five days. Global stocks have struggled for weeks amid a spate of unsettling news from the euro zone that has sent investors fleeing risky assets such as stocks, commodities, and the euro.