Higher oil prices on the way
NEW YORK (CNNMoney.com) -- As oil demand jumps to fresh highs and supplies fall, crude prices are climbing and poised for further gains this summer, signaling that higher costs at the pump may also be on the way.
"The much higher demand lately is a sign that the economy is getting better," he said. "I think we're going to start seeing higher prices and a bull market over the next eight to 12 weeks and through the end of summer."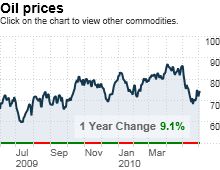 U.S. oil demand surged to a 16-month high of 20 million barrels per day last week, an analysis of Energy Information Administration data by research firm Platts showed Thursday.
The EIA also said crude inventories fell by 1.9 million barrels last week, more than the 1 million-barrel drop expected by analysts surveyed by Platts.
The bigger-than-expected inventory drop caused oil prices to rise in Thursday trading, and crude oil for July delivery jumped $1.75, or more than 2%, to settle at $74.61 a barrel.
Gas prices heading higher?: The EIA also reported that gasoline demand rose 75,000 barrels a day, while inventories fell 2.65 million barrels. Analysts had forecast a 750,000-barrel drop, according to Platts.
Gas prices have been steadily declining, with the national average price for a gallon of regular unleaded gasoline falling for a 28th straight day on Thursday to $2.716, according to motorist group AAA.
But the recent increase in gasoline demand has set the stage for higher prices at the pump soon, and Cordier said he expects prices to rise 15 to 20 cents by the end of the year.
Despite less attractive prices, demand is likely to remain strong as Americans buckle their seatbelts and take more road trips and vacations this summer, said Cordier.
"The economy in the U.S. is getting better and people are wanting to get out and do a little driving," he said."Prices are low enough right now that even if gas prices go up 15 to 20 cents, that's not going to change anyone's mind about traveling."