Gold hits new record high
NEW YORK (CNNMoney.com) -- Gold prices climbed to a new record high Tuesday as Europe's debt troubles sparked demand for perceived safe havens, like the precious metal, and investors hedged against inflation.
What prices are doing: Gold for August delivery rose $5.70 to settle at a record $1,246.50 an ounce. Earlier in the day, it reached an intraday trading record of $1,254.50 an ounce.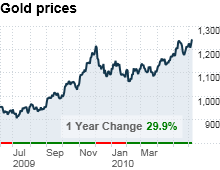 What's moving the market: Investors remained wary about the global economic recovery amid Europe's ongoing sovereign debt problems. In turn, they look to gold and other low-risk investments, which are attractive during times of economic uncertainty, as safe bets.
The precious metal's price has jumped 13% this year.
Gold prices also got a boost from investors who believe Europe's fiscal problems will subside and are instead worried about rising prices. The Federal Reserve's loose monetary policy has some traders worried about inflation.
What analysts are saying: "On one hand you have the possibility of additional problems in Europe going forward. And if Europe implodes, gold prices will continue to rise sharply higher," said Tom Pawlicki, precious metals analyst at MF Global.
"If the European problems go away, gold will still trade higher based on the inflation outlook," he added. "Gold is the perfect hedge against inflation. When the dollar loses its value, gold has been seen as the alternate currency since it holds its value."